Regulatory Outlook
Regulatory Outlook | February 2022
Published on 28th Feb 2022
Welcome to the Regulatory Outlook providing you with high-level summaries of important forthcoming regulatory developments to help you navigate the fast-moving business compliance landscape in the UK. Expect to see it in your inbox on a frequent basis!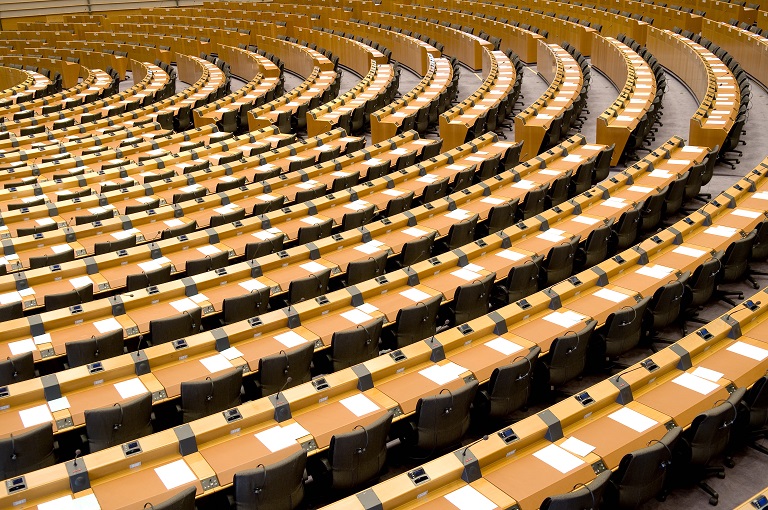 new sanctions against certain Russian entities and individuals;
the European Securities and Markets Authority has started the process to regulate ESG ratings; and
the new UK data transfer agreements come into force on 21 March 2022.
Contents
Bribery, fraud and anti-money laundering
Environmental, social and governance
---
Advertising and marketing
EDPS calls for ban on political ad microtargeting
The European Data Protection Supervisor (EDPS) has welcomed the overarching aims of the proposed regulation on transparency and targeting for political advertising. By laying down rules and obligations for providers of political advertising and related services to be more transparent in their use of targeting techniques, the regulation seeks to promote free and fair elections in the EU, strengthening the EU's democratic process.
The regulation includes strict conditions for targeting and amplification of political advertisements, relying on the explicit consent of the person concerned. However, the EDPS's opinion is that no additional protection is afforded in comparison to existing EU legislation on data protection. Instead, the EDPS recommends that there should be a full ban on microtargeting for political purposes, which involves targeting an individual or small group of individuals according to some of their perceived interests that their online behaviour may reveal.
aim of fully implementing them by spring 2023.
The European Parliament and the Council are discussing the proposed rules with the aim of fully implementing them by spring 2023. 
Government to review the regulatory framework of online advertising
Nadine Dorries, Secretary of State of the Department for Digital, Culture, Media and Sport, delivered a speech at the RENEW summit on 27 January 2022. The Digital and Culture Secretary recognised how much the internet has transformed advertising over the last few decades. She then confirmed that the government will consult on the Online Advertising Programme in the spring and will then review the entire regulatory framework of online advertising, including the content, placement and targeting of advertisements.
FCA consults on financial promotion rules for high risk investments
The Financial Conduct Authority (FCA), as part of its consumer investments strategy, is now calling for views on its most recent consultation paper which seeks to address concerns about the ease and speed with which people can make high-risk investments. The draft rules include proposed restrictions on the marketing of cryptoassets, the promotion of which the government will soon bring within the FCA's remit. 
Feedback is requested by 23 March 2022 and will inform the final rules which will be released in the summer of this year. 
Contacts
---
Bribery, fraud and anti-money laundering 
House of Lords agrees draft amendment of money laundering rules
The House of Lords agreed, on 10 February, the draft Money Laundering and Terrorist Financing (Amendment) Regulations 2022. The draft regulations amend the Money Laundering Regulations 2017, making minor amendments in relation to the registration of trusts: the time limits have been amended and further exclusions applied. 
regulations will come into force on 9 March
The regulations will come into force on 9 March, with certain provisions coming into force at the later date of 1 September 2022. 
EBA launches EuReCa in the EU
The European Banking Authority (EBA) launched its EU central database,  EuReCa, for anti-money laundering and counter-terrorist financing. The database will contain details of internal audit findings and weaknesses in financial institutions, with a view to using this information to identify money laundering and terrorist financing risks across the EU financial services sector. EuReCa will be able to collect personal data upon European Commission approval of the draft Regulatory Technical Standards from which it is derived.
Contacts
---
Competition 
Regulator launches review of the music industry 
The Competition and Markets Authority (CMA) launched, on 27 January, a market study into music and streaming services. The CMA intends to review the entire music value chain from the creation of music through to the supply of music to consumers, including all related services. The CMA wishes to establish both whether the industry is operating in the interests of consumers and whether competition is working fairly and effectively, paying particular attention to the roles played by record labels and music streaming services.
In light of the study, the CMA will consider whether or not there is a need for a full competition investigation and, if so, whether any remedial action is required to address any perceived failings in competition.  Remedial action could take the form of recommending legislation, seeking undertakings or imposing orders on companies to improve the music value chain. The CMA has until 26 July 2022 to publish its preliminary findings (see our insight on the market study).
The deadline for responses to this market study is 17 February. Companies operating at any level of the music value chain should consider whether to engage actively with the CMA to shape the direction of travel in an investigation that may result in fundamental changes to the working of competition in the music streaming market.
Government progresses with detail of its reform of subsidy control
The government, on 25 January, published a policy statement, illustrative guidance and draft regulations on the functioning of the Subsidy Control Bill, which is currently at committee stage in the House of Lords. 
The documents provide guidance on whether an intervention constitutes a subsidy and, if so, whether it is a "subsidy of interest" or a "subsidy of particular interest", as well as whether the voluntary or mandatory referral regime applies.
Much of the detail of the Bill is still to be finalised. As amendments have been made by the House of Lords, the Bill needs to return to the House of Commons for consideration of these amendments before it can become law. However, these documents give an indication of the government's intentions for subsidy control within the UK.  Of key importance is the fleshing out of the proposals for subsidies of interest and subsidies of particular interest. Subsidies of interest will be subject to a voluntary referral scheme to a new body, the Subsidy Advice Unit, while subsidies of particular interest will be subject to a mandatory referral scheme.
Contacts
---
Consumer credit and payments
Amazon reassesses payment option changed for UK site
Following an announcement last November that it would stop accepting Visa credit cards issued in the UK, Amazon announced in January 2022 that "the expected change regarding the use of Visa credit cards on amazon.co.uk will no longer take place on January 19" and that Amazon is "working closely with Visa on a potential solution that will enable customers to continue using their Visa credit cards on amazon.co.uk". The reasons behind this change have not been disclosed, but for customers this is a positive announcement. It allows all customers a greater choice of payment method, and allows those with Visa credit cards to retain the ability to use them with Amazon and secure section 75 Consumer Credit Act protection on applicable purchases.
In February 2022, the two sides announced that a permanent solution had been reached. In relation to the agreement, Amazon stated that it "allows all customers to continue using their Visa credit cards in our stores. Amazon remains committed to offering customers a payment experience that is convenient and offers choice"; whereas Visa stated "This agreement includes the acceptance of Visa at all Amazon stores and sites today, as well as a joint commitment to collaboration on new product and technology initiatives to ensure innovative payment experiences for our customers in the future". Whatever the reasons for resolving the dispute, the net result is that customers will still have a choice as to their payment method when purchasing items from Amazon.
PSR consults on initial remedies following review of card-acquiring market 
The Payment Systems Regulator (PSR) has published a consultation paper (CP22/1) on initial remedies, following on from the card-acquiring market review of November 2021. Responses should be submitted by 6 April 2022. In the paper, the regulator sets out the concerns identified in the market review, and the options that could address these concerns.
More transparency. Card acquirers should provide summary information boxes setting out key price and non-price service elements of their services.
Ensuring point of sale (POS) terminal lease arrangements are not a barrier to switching. The PSR is looking at options for merchants to switch providers without incurring undue costs or suffering inconvenience from exchanging their POS terminals.
The PSR has invited the industry to submit specifications for the potential remedies. Later this year, the regulator plans to issue a provisional decision, draft a remedies notice and, if necessary, a final remedies notice. 
Contacts
---
Consumer law
Digital minister announces age verification measures for pornography sites
Safer Internet Day on 8 February was marked with an announcement by the Digital Minister, Chris Philp, of a strengthened legal duty in the draft Online Safety Bill (OSB) that will require all sites that publish pornography to implement robust checks to ensure their users are 18 and over. Failure to act will result in Ofcom being able to fine companies up to 10% of annual worldwide turnover or block access entirely across the UK.
Privacy concerns have been raised as the process would require the uploading and storage of sensitive personal data. A "central hub" for age verification is being discussed, but cyber security measures would need to be incredibly high.
Additionally, the Department for Digital, Culture, Media and Sport has announced a new list in the draft OSB of criminal content for platforms to remove as a priority.
European Commission seeks views on EU toolbox against counterfeiting
The European Commission has opened a call for evidence regarding the EU toolbox against counterfeiting. The Commission aims to refresh how the EU combats counterfeits, the goal being a more coherent structure for effective and co-ordinated action against both online and offline counterfeiting.
Trading counterfeit goods is harmful to consumers' health and safety, can result in significant losses for companies and is often linked to organised crime. To strengthen anti-counterfeiting, the initiative aims to:
clarify the roles and responsibilities of right holders, intermediaries (online platforms, payment and transport services, domain name registries);
find ways to improve co-operation and data sharing; and
encourage the use of new technologies.
Views can be submitted until 3 March 2022. 
New EU initiative on consumer 'right to repair'
The European Commission on 11 January published a call for evidence on whether it should establish a consumer right to repair for situations which are not covered by the current legal warranty period. The initiative aims to encourage consumers to make more sustainable choices by providing incentives and tools to use products for longer, including by repairing defective goods. It also looks at the possibility of establishing a right to repair, which would strengthen consumers' rights to repair products, at fair prices, therefore extending the useful life of the good and also encouraging producers to design goods that last longer and are more easily repairable.
aims to propose any legislative measures by Q3 2022

The consultation will accept responses until 5 April and the Commission aims to propose any legislative measures by Q3 2022, as indicated in its 2022 Work Programme, along with other initiatives it plans to propose throughout 2022. This will feed into the EU drive towards a circular economy. See more in our insight.
Dark patterns: what are they, and how might they be regulated?
There is significant pressure at an EU and UK level to bring in new restrictions on the use of so-called "dark patterns". As a result there are numerous proposals to introduce restrictions and prohibitions across the digital services act, the UK refresh of consumer law and artificial intelligence legislation.
Further there are suggestions from multiple regulators that dark patterns should factor into enforcement in relation to data protection at consumer protection. We have produced a short video on dark patterns, including how the term is being defined, as well as examining the enforcement that we have seen in this area so far. With an eye to the future, we explain how they believe regulation in this area might evolve and highlight a few areas for businesses to keep on their radar in this developing area. Watch the video here.
FCA consults on financial promotion rules for high-risk investments
Please see advertising and marketing.
Contacts
---
Cyber security 
Government announces two consultations and a policy paper as part of the National Cyber Strategy 2022
As part of its plans to increase cyber resilience through its £2.6bn National Cyber Strategy 2022, the government recently announced two consultations and a policy paper.
"Proposals for legislation to improve the UK's cyber resilience" was announced and proposes reforms to the Network and Information Systems (NIS) Regulations 2018 to improve the UK's cyber security in response to recent high-profile cyber security attacks. The aim of the proposed changes is to ensure that more firms providing essential digital services (such as firms which manage IT services on behalf of other organisations) are brought within the scope of the 2018 NIS Regulations, with large fines for non-compliance. The consultation closes on 10 April 2022 and the responses will be used to inform changes to the NIS and the scope of the general cyber-security framework. 
The other consultation focuses on Pillar III: considerations for the standardisation of the cyber-security profession. The consultation, "Embedding standards and pathways across the cyber profession by 2025", seeks views on the most effective means of ensuring the UK Cyber Security Council can be the voice of the profession over the next strategic period. The consultation closes on 20 March 2022.
The policy paper, the "2022 Cyber Security Incentives and Regulation Review", sets out how the government can strengthen cyber resilience. The paper recognises that cyber security cannot be left solely to the marketplace to deliver and explains how government intervention can incentivise and hold organisations accountable for cyber resilience across the UK's economy and society. 
Each of the above demonstrates the government's commitment to delivering on its National Cyber Strategy 2022; businesses will need to be aware of any regulatory changes that may arise out of these consultations. 
Contacts
---
Data protection
UK data transfer agreements laid before Parliament 
come into force on 21 March 2022
The Secretary of State of the Department for Digital, Culture, Media and Sport, on 2 February, laid before Parliament the International Data Transfer Agreement (IDTA), International Data Transfer Addendum to the EU standard contractual clauses (SCCs), and a document setting out transitional provisions. These were published by the Information Commissioner's Office in August 2021 as a replacement to the current standard contractual clauses used for personal data transfers from the UK to third countries (the old EU SCCs). The European Commission replaced these with the new EU SCCs on 4 June 2021; but, in light of Brexit, the new EU SCCs did not apply in the UK. As a result, organisations have been eagerly awaiting the UK's equivalent. Provided no objections are raised before Parliament, the new UK documents will come into force on 21 March 2022. 
Please see our dedicated insight on this topic and contact one of our experts below if you require further advice on what this means for updating your commercial agreements to comply with international data transfer requirements.
European Data Protection Board adopts guidelines on right of access to personal data
During its January plenary session, the European Data Protection Board adopted Guidelines on the Right of Access, which aim to provide more precise guidance on how to implement the right of access in various situations. The guidelines, at 60 pages, provide helpful information on assessing requests, the scope of the right of access, how to provide access, and any limitations on the right of access, among other topics. A public consultation on the guidelines will run for six weeks. 
Government consults on legal reforms to improve the UK's cyber security
Please see Cyber Security.
ENISA publishes report on implementing data protection by design and by default 
The European Union Agency for Cybersecurity (ENISA) has published a report on data protection engineering, intended to help practitioners and organisations with the practical implementation of technical aspects of data protection by design and by default. The report considers how existing technologies and techniques, such as anonymisation, data masking, privacy preserving computations, storage, transparency and user control tools, may be able to meet the data protection requirements set out in Article 5 of the GDPR.
Contacts
---
Employment and immigration
Court of Appeal allows claim for six years unpaid holiday by self-employed
The Court of Appeal has handed down a significant decision for employers on the interpretation of regulation 13 of the Working Time Regulations (WTR), which entitles workers to four weeks' paid leave. This regulation was introduced to implement minimum annual leave obligations under the European Working Time Directive (WTD). Separately, in the UK, workers are also entitled to an additional 1.6 weeks' paid leave under regulation 13A WTR. 
The main takeaway from the decision (see our insight for coverage) is that it may lead to retrospective liabilities for organisations engaging individuals on a self-employed basis where the individuals are able to establish that they are "workers". These individuals may now be able to claim a period of unpaid holiday pay (where holiday has not been taken or has been taken but not paid) stretching back over their engagement. This may be an attractive option for many self-employed workers who have recently seen the tax benefits which come with self-employment erode. 
Employers should consider the ramifications of this decision in light of their workforce and holiday pay arrangements. The court was clear in its reasoning that the ball is firmly in the employer's court, with all employers required to "set up and maintain a facility to enable paid leave to be taken" coupled with "a duty to establish the correct position; [employers] cannot be allowed to benefit from not paying for annual leave to the detriment of the worker's health and of the purpose of the WTD". (See more in this insight.) 
Contacts
---
Environment 
Private Members' Bill on carbon emission rules for buildings makes progress
Duncan Baker MP introduced the Carbon Emissions (Buildings) Bill to Parliament as a Private Members' Bill on 2 February 2022. If passed, the Bill will require that the carbon emissions for the entire lifetime of buildings are reported and will set limits on embodied carbon emissions in the construction of new buildings. The Bill follows proposals by the construction industry in 2021 for the addition of Part Z to the UK Building Regulations, which would also regulate embodied carbon. 
The Bill passed its first reading and its second reading is scheduled for 18 March 2022. Although it is quite rare for a Private Members' Bill to become law, the progress of this proposed legislation may be of interest. 
Commission pushes on with initiative for certification of carbon removals
The European Commission has published a call for evidence from stakeholders as part of developing its initiative on certifying carbon removals. It has also launched a separate consultation in relation to the initiative. The aim of the initiative is to expand sustainable carbon removals and encourage the use of innovative solutions to capture, recycle and store CO2 by farmers, foresters and industries. 
The initiative proposes to implement a certification framework, which will identify appropriate types of carbon removals and assess whether common minimum standards should be set for certification methodologies, including for monitoring, reporting and verification. It will also look into whether the different functions, including the prior validation of projects and the verification of carbon removals achieved, should be carried out by private operators or by public authorities, possibly as part of a centralised EU system.
Both the call for evidence and consultation close on 2 May 2022. The Commission plans to adopt a proposal for an EU Regulation setting out the regulatory framework for certifying carbon removals in Q4 of 2022.
Contacts
---
Environmental, social and governance 
Europe's financial watchdog makes call for regulating ESG ratings 
Last year, the European Securities and Markets Authority (ESMA) expressed concerns to the Commission about the lack of regulation around environmental, social and governance (ESG) ratings. ESMA set out in a letter to the Commission that, without regulatory safeguards in place for ESG ratings, it posed a potential risk to investor protection. 
Subsequently, on 3 February 2022, the ESMA published a call for evidence which is aimed at gathering information about the market structure for ESG rating providers. ESMA is anticipating that this consultation will be followed by a complementary consultation on this topic from the Commission. This call for evidence represents the first step in regulating ESG rating products and indicates the direction that regulating ESG ratings could be heading. 
Comments for the call for evidence are to be made by 11 March 2022.
Consultation underway on due diligence rules for 'forest risk' commodities 
The Department for Environment, Food and Rural Affairs (Defra) published a consultation on 3 December 2021 on implementing due diligence requirements for "forest risk" commodities introduced under the Environment Act 2021. These requirements are intended to help tackle illegal deforestation by implementing controls on the UK's international supply chain. Examples of forest risk commodities include cattle (beef and leather), cocoa, coffee, maize, palm oil, rubber and soy.
The new requirements would apply to large businesses with a turnover over a specified threshold and would introduce the following:
They would be prohibited from using a forest risk commodity, or a product derived from that commodity, in their UK commercial activities unless relevant local laws on that commodity were complied with.
They would be required to establish and implement a due diligence system for any forest risk commodity or a product derived from it used in their UK commercial activities, and report annually on their due diligence.
The consultation closes on 11 March 2022 and the feedback received from the consultation will feed into the drafting of secondary legislation and accompanying guidance. 
Contacts
---
Food Law 
White paper will lay out food strategy for the UK
On 31 January 2022, the government published 'The Benefits of Brexit: How the UK is taking advantage of leaving the EU'. Within the document, the government set out that it is soon to publish a white paper laying out its food strategy in line with its vision for "the future of the food sector, from farm to fork." At page 63 of the paper, the government outlines that it will look to allowing consumers to make better informed choices by optimising food information, such as on food labelling. This could be in the form of new HFSS legislation perhaps by resurrecting the proposals to show teaspoons of sugar on packaging. More details are expected in the white paper. 
Post-Brexit deregulation planned for meat substitute novel foods
In the 'Benefits of Brexit' paper, the government also set out its plans to review the novel foods regulatory framework, using the "freedom" that Brexit has given it to do so. The government will work with the Food Standards Agency in order to "update the process for approving novel foods, to create a transparent and effective system that is the best in the world for innovators, investors and consumers and encourages safe innovation in the sustainable protein sector." Which suggests that there may be some prioritisation given to applications for products such as lab grown meat, insects and novel meat substitutes. 
Scottish policy gives impetus to potential food legislation 
The Scottish government has introduced a Good Food Nation policy, which sets out a vision for Scotland by 2025 that "people from all walks of life will take pride and pleasure in, and benefit from, the food they produce, buy, cook, serve, and eat each day." Under this policy, it will look to ensure that: Scottish people know what constitutes as good food, value it and seek it out whenever they can; those who serve and sell food are committed to serving and selling good food; everyone in Scotland has ready access to the healthy, nutritious food that they need; and Scottish producers ensure that what they produce is increasingly healthy and environmentally sound. Which suggests that Scotland is planning to follow Westminster and introduce HFSS legislation. The Health and Care Bill (see our insight) and the Food (Promotion and Placement) (England) Regulations 2021 (see our insight), does not extend to Scotland.
The Good Food Nation (Scotland) Bill was introduced on 7 October 2021 with a view to implementing a framework to achieve these goals. Notwithstanding this the current draft, of the Bill makes no mention of restrictions on high fat, sugar and salt (HFSS) foods, or advertising regulations and the legislation implementing restrictions on the promotion of HFSS products in England and Wales. This could mean a complex situation in relation to HFSS restrictions because they could vary depending on which part of the UK the promotion or advertising takes place in. 
The Good Food Nation (Scotland) Bill is currently at Stage 1 having been delayed due to the emergency implementation of the coronavirus legislation. We await further developments. 
Food chain regulation takes further steps in the EU
In the UK, retailers are expected to fairly manage their relationships with suppliers under The Groceries (Supply Chain Practices) Market Investigation Order, 2009. Now, in the EU, a similar approach has been taken in Belgium whose parliament on 15 December 2021 adopted the Law of 28 November 2021 implementing Directive (EU) 2019/633 of the European Parliament and of the Council of 17 April 2019 on Unfair Trading Practices in Business-to-business Relationships in the agricultural and food supply chain. As detailed in our insight, entities that fall within the scope of this legislation will have until 15 December 2022 to adapt their existing agreements between buyers and suppliers to ensure they are complying with this law. Those agreements that were adopted after 15 December 2021 should already comply with the rules as listed in our insight. 
Government set to introduce new legislation to facilitate gene editing in plants
The government recently revealed a two-stage plan to revise the regulations on genome-edited crop plants with step one now underway, following its consultation on gene editing in 2021. The draft Genetically Modified Organisms (Deliberate Release) (Amendment) (England) Regulations 2022 and accompanying explanatory memorandum were laid before Parliament on 20 January 2022. The draft regulations are due to come into force 21 days after the day on which they are made. 
The key change these regulations will introduce is to remove the need both to submit a risk assessment and to seek the secretary of state's consent before releasing – for non-marketing purposes – genetically modified plants that could have been produced by traditional breeding methods. For more details on this, please see our insight. 
Contacts
---
Health and Safety 
Living with Covid-19
The prime minister set out his "Living with Covid-19" plan on 21 February which removes all domestic restrictions in law. From Thursday 24 February, the government removed the legal requirement to self-isolate following a positive test result. Those who test positive will continue to be advised to stay at home and avoid contact with other people for at least five full days and then continue to follow the guidance until they have received two negative test results on consecutive days. The government are also to remove the legal requirement for close contacts who are not fully vaccinated to self-isolate. The government will publish guidance for close contacts to set out precautions they need to take to reduce risk to other people.
The government also announced that from 1 April 2022, they will replace the existing set of "Working Safely" guidance with new public health guidance, including setting out the ongoing steps that people with Covid-19 should take to minimise contact with other people. Within the plan they have outlined that the requirement for every employer to explicitly consider Covid-19 in risk assessments will be removed, but highlighted that employers will still need to consider the needs of those who are at greater risk from Covid-19. The government will consult with employers and businesses to ensure guidance continues to support them to manage the risk of Covid-19 in workplaces.
New clauses added to the Building Safety Bill
Michael Gove, the Levelling Up and Housing  Secretary, announced new measures on 14 February to ensure developers and product manufacturers pay to remove cladding in order to protect leaseholders from these costs. If passed by Parliament, these new amendments to the Building Safety Bill will be brought into law. The amendments that have been introduced are:
A registration scheme will be set up by the Secretary of State which anybody operating in the building sector must register to and pay members fees. Those not registered could be barred from gaining planning control or building control. The Secretary of State will also have the powers to prohibit and development/developer he wishes.
Developers and construction product providers will be subject to cost contribution orders.
The Building Safety Levy will be able to apply to more developments. 
These amendments are due to be discussed on Monday 21 February 2022 at the committee stage in the House of Lords. Read our insight on this here. 
Government responds to its 'protect duty' consultation
The government published on 10 January its response to the Protect Duty public consultation (see our insight for further analysis). The protect duty has been championed by victims' groups, including the Martyn's Law campaign, which was established following the Manchester Arena attack in 2017. The government has stated that it plans to introduce a legal duty on a variety of organisations to put in place security measures to protect the public from terror attacks. It is expected that they will do so by introducing formal legislation. 
This is still in the early stages but following the publication of its consultation response, the government has said that it will continue to engage with stakeholders and government departments to develop this legislation. For organisations that could be affected by this new legislative framework, it is advisable to start engaging with security and counterterrorism as part of any existing risk assessment and health-and-safety regime as early as possible.
We are giving a webinar on this topic next month, you can register your interest here. 
Contacts
---
Modern slavery 
Commission adopts proposal for a Directive on corporate sustainability due diligence
On 23 February the European Commission announced that it had adopted a proposal for a Directive on corporate sustainability due diligence. The aim of the proposal is to ensure companies are playing a role in building a sustainable economy and society. This will be done by requiring them to undertake due diligence checks of their supply chain to identify actual and potential adverse impacts of their activities on human rights (including child labour and the exploitation of workers) and the environment (for example, pollution and biodiversity loss). These checks must be taken regardless of whether the activities occur in the company's own operations, their subsidiaries or in their value chain.
The new rules will apply to:
all EU limited liability companies with 500+ employees and €150m in net worldwide turnover (Group 1)
other EU limited liability companies with 250+ employees and €40m in net worldwide turnover which operate in defined high impact sectors (Group 2). Group 2 companies will have two more years to adapt to the directive before the legal effects come into force
non-EU companies active in the EU, which have a turnover generated in the EU which meets the Group 1 and Group 2 thresholds
In order to comply, companies will be required to:
integrate due diligence into policies;
identify actual or potential adverse human rights and environmental impacts;
prevent or mitigate potential impacts;
establish and maintain a complaints procedure;
monitor the effectiveness of these measures and policies; and
publicly communicate on their due diligence efforts.
The proposal will be presented to the European Parliament and the Council for approval. Once adopted, Member States will have two years to transpose the Directive into national law and communicate the relevant texts to the Commission.
 
Contact
---
Products 
Parliament presented with new regulations on taxing plastic packaging 
On 9 February 2022, the Plastic Packaging Tax (General) Regulations 2022 were laid before Parliament. These regulations make provision for plastic packaging tax, introduced by the Finance Act 2021 Pt 2 and will come into force on 1 April 2022. 
will come into force on 1 April 2022.
The regulations set out the administrative requirements for the plastic-packaging tax, including detailed definitions such as how to determine a plastic packaging component, how to calculate its recycled plastic content and the definition of "substantial modification" for determining when a plastic packaging component is finished and chargeable. It also contains a range of taxpayer obligations concerning returns, including how HMRC will administer the tax, record-keeping requirements and repayment of overpaid tax.
Commission opens consultation on new biodegradable plastic policy framework
Last month, the European Commission launched a public consultation on a policy framework on biobased plastics (BBP) and biodegradable and compostable plastics (BDCP). The consultation seeks views on:
The sustainability of the biological feedstock used to produce BBP, including considering land use changes, biodiversity and climate impacts, and littering. No EU sustainability criteria currently apply to BBP.
The effective biodegradation of BDCP and their role in a circular economy. Biodegradation needs to be verified by standards. Currently, there are EU standards for industrial composting but not for these plastics in other conditions, such as the marine environment. Under the waste hierarchy, these plastics should only be used for limited, specific purposes for which reducing, reusing and recycling are not feasible or desirable.
Clear and reliable information and labelling on BBP and BDCP for consumers and users.
The consultation closes on 15 March 2022 and the Commission expects to adopt the policy framework in summer 2022. 
Commission calls for evidence on revising Waste Framework Directive
The European Commission has published a call for evidence on an impact assessment for revising the Waste Framework Directive (2008/98/EC), which provides the overarching legislative framework for handling waste in the EU.
The Commission is considering introducing regulatory measures to reduce waste generation, such as  targets on waste reduction and expanding the role of extended producer responsibility (EPR) schemes. It is also looking to reinforce the "polluter pays" principle by expanding EPR schemes to other categories of product (such as textiles and oils) and improving enforcement of EPR requirements, in particular for products sold online.
The call for evidence closed on 22 February 2022. The Commission aims to consult on this in March 2022 and plans to adopt a proposal for a Directive in Q2 of 2023. 
Revision of REACH Regulation planned to help achieve a toxic-free environment
The European Commission launched a consultation on 20 January to revise the REACH Regulation 2006 (1907/2006/EC) on the registration, evaluation, authorisation and restriction of chemicals. The Commission is considering: revising requirements for registration; simplifying communication in supply chains; reforming the processes for evaluating dossiers and substances, authorisation and restriction; and revising enforcement provisions. The aim of this consultation is to, among other things, tackle the issue of the inflexible authorisation process which imposes heavy burdens on both companies and authorities, and also ensuring clear communication up and down the supply chain on uses and necessary risk management as this currently lacks accuracy and clarity. 
The consultation closes on 15 April 2022. The Commission plans to adopt a proposal for a regulation in the fourth quarter of 2022. 
Commission looks to restrict the use of hazardous substances in electronics
The European Commission opened a call for evidence on 14 February on the use of harmful substances in electrical and electronic equipment.  The initiative aims to evaluate Directive 2011/65/EU (RoHS Directive) to increase the efficiency and simplify the current rules and improve its enforcement. Among its objectives, the Commission plans to transform the RoHS Directive into a regulation to reduce the unnecessary regulatory burden of transposing the Directive into different Member States. It has also set out that plans to introduce and revise legislative measures such as clarifying and improving the exemption and criteria process as well as the substance restriction trigger-criteria process.
The Commission plans to launch a public consultation this quarter and to adopt a legislative proposal in the fourth quarter this year.  
Second reading completed of Product Security and Telecommunications Infrastructure Bill 
Please see Telecoms.
Contacts
---
Regulated procurement
Latest Pestfix judgment could impact redesign of public contract rules
A recent judgment on a high-profile judicial review challenge against the government's award of personal protective equipment could impact its work in redesigning the Public Contract Regulations 2015 post-Brexit. We argued in our case summary on Good Law Project Limited, Everydoctor v The Secretary of State for Health and Social Care v Crisp Websites Limited (t/a Pestfix), Clandeboye Agencies Limited, Ayanda Capital Limited [2022] EWHC 46 (TCC) that the "limited tendering procedure" (for direct awards) could be revisited by the government following the court's judgment on this case. The court said that the principles of equal treatment and transparency can still apply in situations of urgency where a direct award is necessary. The government may therefore use the new rules to try to clarify the scope of their application, so as to allow the government more flexibility in times of uncertainty. 
Contacts
---
Sanctions and Export Control 
New Russian sanctions announced
On 10 February, amendments to the Russia sanctions legislation came into force, enabling the government to impose tough new sanctions on certain Russian entities and individuals.
On 22 February, following the prime minister's statement in the House of Commons on the situation, new sanctions and asset freezes were announced on a selection of banks and certain members of the Russian elite. In addition, the UK government announced that members of the Russian Duma would be sanctioned and that the sanctions already imposed in relation to Crimea would be extended to non-government controlled territory in Donetsk and Luhansk. Further details of these sanctions are set out in our article published on 24 February 2022.
The second package of more severe sanctions was announced on 24 February and more details of these can be found in our insight published on 25 February 2022. 
At the time of publishing this Outlook, further sanctions are being prepared by the UK, EU and US. These include selected Russian banks being removed from the global interbank payments network Swift messaging system. In the words of these and other countries' Joint Statement of 26 February, "this will ensure that these banks are disconnected from the international financial system and harm their ability to operate globally". Secondly, "restrictive measures" will be introduced to "prevent the Russian Central Bank from deploying its international reserves in ways that undermine the impact of our sanctions". Information on the detail and timing of these two measures is awaited. 
With sanctions being imposed by various countries across the world, businesses should be aware of how this may impact them and ensure that robust sanctions compliance measures are in place.
We will be issuing further updates as the situation develops.
Contacts
---
Telecoms
Ofcom publishes paper on the Future of mobile markets
Ofcom published a paper on 9 February setting out details of its future approach to mobile markets.  The predictions made by Ofcom in its paper include: 
Increased use of "data hungry" services like streaming, video calling and newer technologies, such as virtual and augmented reality, and connected vehicles;
A reduced reliance on the four main mobile network operators, with mobile networks being only one of a range of wireless technologies people use on a day-to-day basis; and
An increased role for other companies (including large tech firms such as Amazon and Google) in the provision of networks, selling mobile internet access and providing online services.
In spite of the above predictions, Ofcom has stated that it does not propose any new regulatory interventions in mobile markets at this stage, and will instead focus on monitoring how competition evolves and developing better information for customers. 
Ofcom is accepting responses to its paper until 8 April 2022. 
Product Security and Telecommunications Infrastructure Bill completes second reading
As discussed in last month's regulatory outlook, the Product Security and Telecommunications Infrastructure Bill is intended to create a regulatory scheme that will provide additional security in relation to internet-connectable products. The Bill was debated at second reading on 26 January and is now awaiting review by the Public Bill Committee.  
Contacts