Our Experience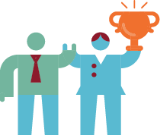 Santander
Advised on a £73m development and investment finance facility relating to Imperial College London's new £200m Research and Translation Hub.
BNP Paribas
Advised on the restructuring of a £500m loan fund which utilised extensive currency swaps and an SPV structure.
Barclays Bank
Advised Barclays and a US lender on the US$40m refinancing of Avon Rubber plc (the producer of specialist products in the defence and dairy sectors).
VocaLink
Advised on the provision of payment processing services to start-up high-street bank Metro Bank.
Verisign
Advised on establishment in the UK and Germany, and on European partner and direct sales arrangements and compliance with European data protection regulations.
Investec Bank
Advised to support Rutland Partners' £85m acquisition of Maplin Electronics from Montagu Private Equity.
Nomura
Advised on the employment aspects of its takeover of the European arm of Lehman Brothers. The deal was completed within three days, with 2,500 employees transferring to Nomura.
Deutsche Bank
Represented on the enforcement of a £66m credit facility secured by seven high-value properties in the UK. Commencing High Court proceedings and seven related County Court possession claims.
Niam
Advised on all aspects of structuring and establishment of the Niam Nordic VI closed-ended real estate fund with equity commitments of €800 million.
Foresight Group
Advised on the launch of its £60m Regional Investment Fund, targeting small PE investments in the North West of England, as well as a number of environmental infrastructure LP style funds.
CD Capital
Advised on the establishment of CD Capital Natural Resources Fund II, a Cayman Island domiciled fund primarily targeting US institutional investors, and making private equity investments in the natural resources sector.
KPMG
Advised on drafting and negotiating an agreement for a major strategic alliance with Formula One team McLaren's Applied Technologies business to create a range of innovative client service tools and statutory audit services.
Grant Thornton
Advised on the investigation of international carousel fraud involving up to 20 companies ranging from the Dutch Antilles to continental Europe and North America.
Deloitte
Advised on the administration of MWL Print Group Limited and related subsidiaries, dealing with appointment, commercial and sales issues relating to the asset sale to a competitor.
The latest FinTech insights
Stay up-to-date with all the latest news and legal insights on FinTech, blockchain, cryptocurrency and NFTs.
Future of Financial Services Week
Catch-up on the sessions you missed and refresh your memory on your favourite ones during the week. Find below a range of webinars covering topics including the FCA's new consumer duty, the growth of decentralised finance, How to be a successful VC and challenges when faced with significant business interruption and/or financial difficulties – particularly lessons learned from Wirecard.
Catch-up here
Insights
Corporate
What are the most commonly used Dutch fund vehicles, how are they treated for tax and what is the Dutch...
Regulatory and compliance
Entities supervised under AML rules whose UK revenue exceeds £10.2m a year will see a new levy appear on their...
Financial Services
UK financial services regulator warns of 'unacceptable risk' that some payments firms pose to customers and the financial system's stability