International legal practice Osborne Clarke will promote six of its lawyers to Partner and six to Legal Director on 1st May 2023. The newly promoted UK colleagues bring experience across the firm's key sectors and will be based across its London, Bristol and Reading offices.
Robert Adjetey : a specialist in contentious construction matters, he advises clients in the Built Environment sector on all forms of dispute resolution, including litigation, arbitration, mediation and adjudication. He also provides risk management advice on live projects, and has worked extensively on building safety matters for developer clients.
Tom Frapwell : primarily acts for clients in the firm's financial services sector, including its professional services clients, bringing extensive experience advising on complex international disputes, investigations and contentious insolvencies.
Georgina Graham : a specialist data lawyer who advises clients on data protection and privacy compliance, non-privacy data regulation (including data aspects of digital regulation) and on the commercial and strategic use and exploitation of data (whether personal data or otherwise). She works with clients from a range of sectors, particularly technology, media and communications; retail; and energy.
Nina Lazic : is an experienced litigator, with particular expertise advising on all aspects of cyber security (including incident response and follow-on claims), contentious data privacy, and complex commercial disputes (often in the technology, media, and communications sector).
Emma McPeake : a specialist in the retail and logistics sectors, she advises on all aspects of commercial real estate transactions, acting for institutional investors, developers and property companies.
James Taylor : specialises in advising high-growth business using technology to drive transformative change within their sectors and the institutional investors which invest in them. He advises on transactions across the full spectrum of the venture capital, growth capital and private equity markets, including fundraisings, buyouts, buy-and-build projects and exits.
As well as the newly promoted partners listed above, Sarah Beard, Jeremy Godley, Katherine King, Elizabeth Shanahan, Shona Toms, and Dawn Troman will also be promoted to Legal Director.
 
"It's an absolute pleasure to congratulate our six colleagues who have achieved promotion to Partner this year. The dedication they have shown to the firm and to our clients has paid off, and this new role marks the next chapter in their careers.

We're strategically growing our business to capitalise on opportunities within the UK and internationally. With half of this year's cohort and a number of lateral joiners in the UK during the last year from our Disputes and Risk Practice Group, we're investing in talent that we feel will strengthen new and existing client relationships as we go forward."
Over the past 12 months the firm announced multiple hires including Life Sciences Patent Litigation Partner Trevor Crosse, Contentious Financial Services Regulation Partner Benedicte Perowne, and Technology Disputes Partner Philip Tansley.
The firm continues to grow its international team as well, with recent laterals including Corporate Partner Filippo Palmieri and Banking and Finance Regulation Head Nunzia Melaccio joining in Italy; Head of EU Law Roderick Nieuwmeyer joining in Belgium; and Dispute Resolution Head Marcin Robenek and Banking and Finance Head Michał Markowski joining in Poland.
In addition to these lateral hires, Osborne Clarke has made multiple senior promotions internationally. In Belgium, Louis Hoffreumon in the Commercial team, Frank Hoogendijk in the Corporate team and Life Sciences Regulation Head Vladimir Murovec were promoted to Counsel. Corporate M&A lawyer Wiktoria Chwiedosik in Poland and Laurène Zaggia, an IP specialist in France, also achieved promotion to Counsel. Corporate lawyers Susanne Kühlthau and Maximilian Vocke were promoted to Partner in Germany, with Roger Segarra, a Data Protection and Privacy specialist, achieving Partnership in Spain.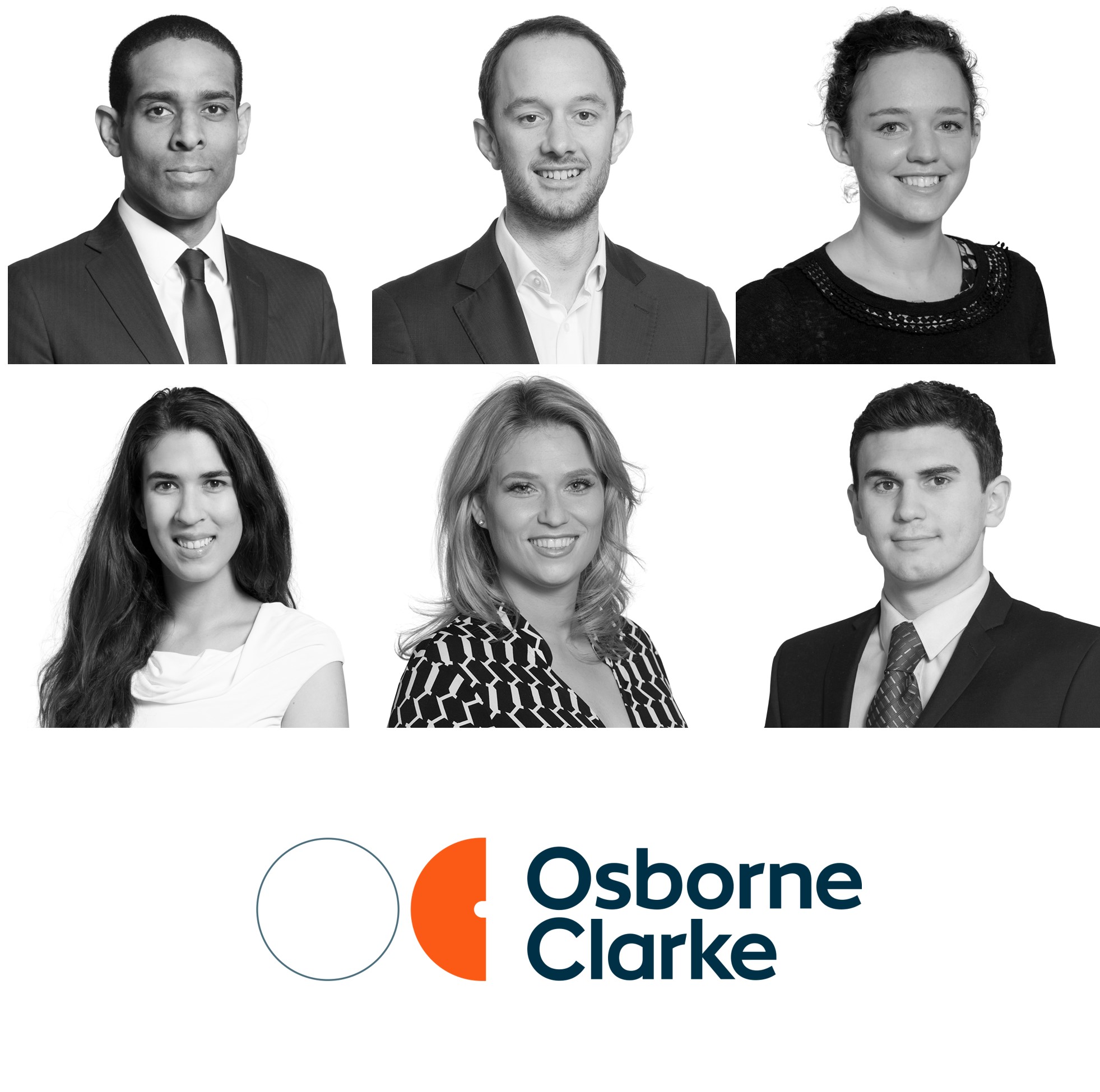 LtR: Robert Adjetey, Tom Frapwell, Georgina Graham, Nina Lazic, Emma McPeake, James Taylor
Corporate communications and press contacts
---
Connect with one of our experts