International legal practice Osborne Clarke has made seven Partner promotions in the UK. The newly promoted colleagues have a mix of experience across all the firm's key sectors including technology, media and communications; energy and utilities; and financial services. The firm has also promoted three legal directors.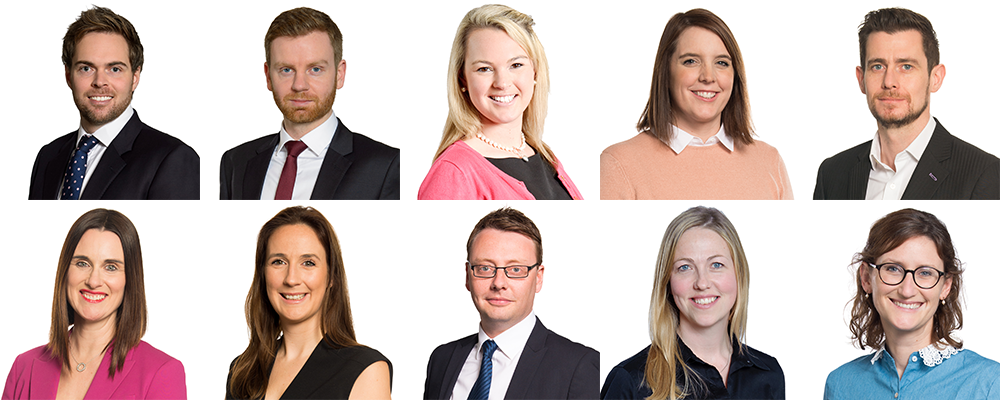 The new UK partners will be:
Chris Yeo: A specialist in advising institutional investors on private equity transactions and infrastructure projects with a focus on the energy and utilities sector.
Craig McCarthy: A regulatory litigator and expert in public procurement and interventions from regulators, who acts for a wide range of clients and is recognised for his expertise in the energy and utilities, transport, and defence sectors.
Katherine Kirrage: An expert in competition law and regulatory compliance, her sector expertise covers technology, media and communications and retail and consumer sector clients.
Ken Wilkinson: A media and technology sector-focussed corporate lawyer, with a particular focus on the UK media and entertainment sector.  With expertise in mergers and acquisitions, venture and growth capital investments and joint ventures, Ken is helping to further grow the Firm's leading technology, media and communications specialist offering.
Pippa Byrne: A private equity specialist, primarily acting for institutional investors in the mid-market on all stages of their investment, from buy out to exit, and also advising management teams on their equity terms.
Richard May: Intellectual property expert, with an emphasis on brand portfolio management and disputes concerning trade marks, designs and copyright. He has a particular focus on retail and consumer; life sciences and healthcare; and technology, media and communications sectors.
Olivia Sinfield: An employment law expert advising clients across the full range of contentious and non-contentious issues arising during the employment life cycle. She leads Osborne Clarke's team advising on HR GDPR issues and specialises in workforce solutions, financial services and technology, media and communications sectors.
Additionally, the newly promoted UK legal directors are:
Hannah Drew (née Willson): An expert in commercial law in the digital media and telecoms sectors and also leads our telecoms regulatory practice.
Vicky Dudding: Leads Osborne Clarke's corporate structuring and simplification team and has particular expertise in complex corporate re-organisations, restructures and demergers.
Victoria Gwynedd-Jones: An experienced, technical lawyer advising on a wide range of high value commercial transactions including procurements, outsourcings, and routes to market; and providing practical advice on complex contractual provisions.  She is also Osborne Clarke's Commercial Knowledge Lawyer.
Ray Berg, UK Managing Partner at Osborne Clarke, commented:  "I'm very pleased to welcome these colleagues into the partnership and to congratulate our new legal directors on their promotions. Their dedication and strong leadership in supporting our clients and colleagues has really driven our business performance. I look forward to seeing the impact they will make as the future leaders at Osborne Clarke."
The firm has also made a number of international partner promotions as of January 1st 2021: Robert Hunter, an international arbitration expert, Till-Manuel Saur, a venture capital specialist in the technology, media and communications and financial services sectors and Rouven Siegemund, a corporate law specialist across the technology, media communications and energy and utilities sectors, who all joined the partnership in Germany. Coen Barneveld Binkhuysen, an expert in commercial contracting with a focus on the technology, media and communication sectors, was also promoted to the partnership in The Netherlands. Lucie Mongin-Archambeaud, a specialist in business crime, ethics, litigation and crisis management was promoted in France and employment law specialist Arjun Paleri was promoted to partner at BTG Legal, Osborne Clarke's Indian relationship firm.
Alongside the promotions, Osborne Clarke is sharing its most recent Gender Pay Gap report, with data from April 2020. This is the firm's fourth year of reporting gender, ethnicity and partner pay gaps.
"We've published our report at the same time as our promotions, because while we celebrate our  incremental achievements – promoting at least 40% women into the partnership during the last three years – we also recognise the broader picture remains largely unchanged. Over the last year, we've doubled down on our commitment to create a more diverse and inclusive firm.
"One of the key improvements we've made is to establish our new governance board, the Diversity Champions Forum, chaired by a member of our Executive Board. They're working closely with our expanded D&I team to accelerate change over the next four years. We have also created a gender task force to tackle the pay gap, are undertaking an independent review of our recruitment practices, and will be publishing our race and gender action plans this year." said Ray.
Corporate communications and press contacts
---
Connect with one of our experts