Corporate
Predictions 2022: What could be in store for US and international business?
Published on 18th Jan 2022
Businesses will be readying themselves for growth and transformation in a year in which the world hopes to move on from the pandemic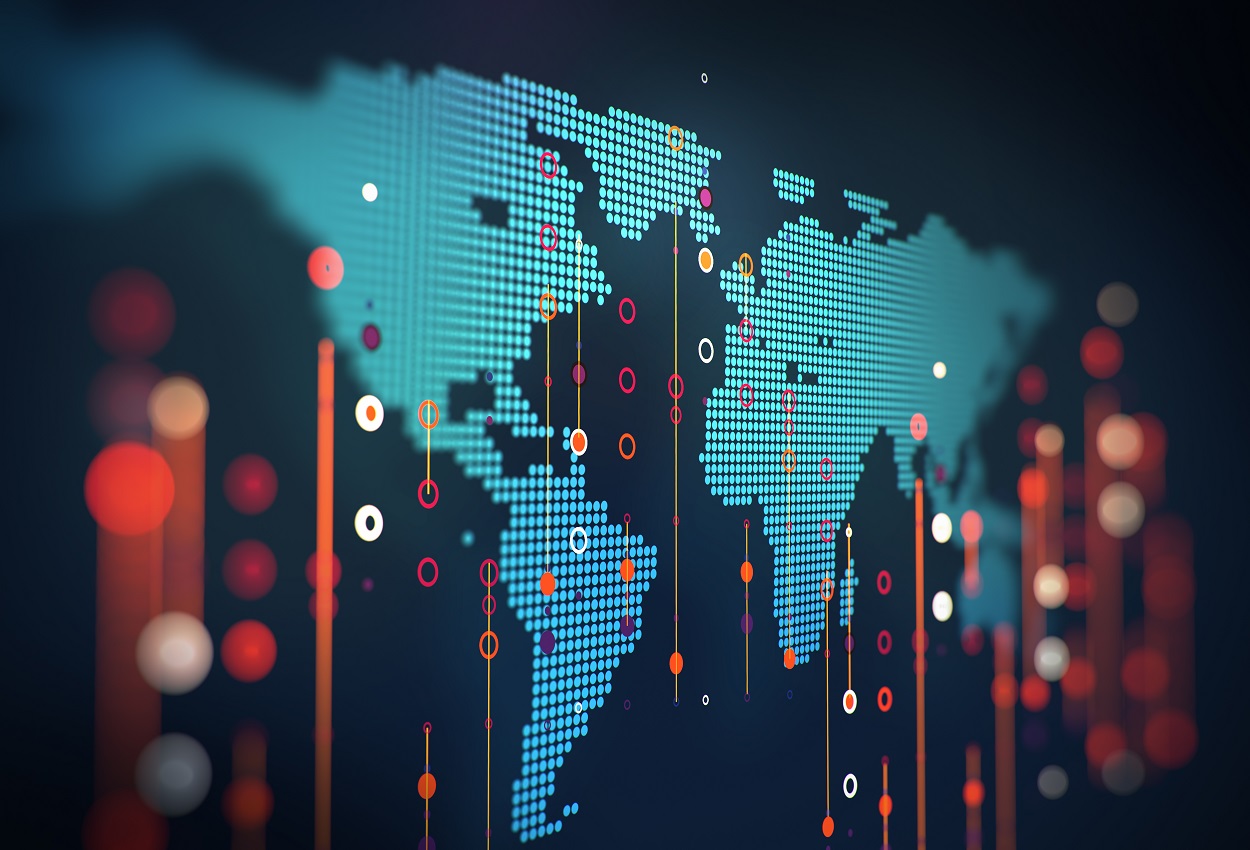 US and European businesses will be looking to 2022 for the global economic recovery to pick up speed and for the restrictions of the two-year Covid-19 pandemic to ease. Although government economic and monetary policies have differed on either side of the Atlantic, US businesses looking east will likely see Europe's economic growth gather further pace.
There are some powerful transformative forces at play in the international business arena, with the experience of the last two years continuing to shape the US, European and world economy. Globalization continues to be driven by the growing international reach and capabilities of international business. Environmental, social, and corporate governance factors are an increasing focus and imperative for boardrooms across the US and Europe.
In 2022, digitalization, the drive to decarbonize and the change in the way we work and the how this shapes our urban environments will bring further change for international business.  So how will these factors shape markets and what should businesses be looking out for in 2022? Our experts give their insights into eight crucial business sectors and their emerging themes for the new year, including: the US market, life sciences and healthcare; technology, media and communications; retail and consumer; transport and automotive; financial services; energy; and international HR.
The US market (Steve Wilson): 
Covid-19 lingers as business limbers up. Impact of the pandemic will continue to disrupt our lives, but it's clear that business hasn't slowed down.
New digitalization-enabled work models address people's needs. Digitalization has enabled a remote-working model and future-of-work strategies are being informed by client and employee needs.
US edges ahead on the ESG drive. Environmental, social and governance (ESG) has become a driver of corporate growth and investment decisions, and the US is establishing itself as leader for change through ESG.
Global capabilities boost growth worldwide. Global growth will rebound as acquisitions are concluded remotely, investment decisions are taken from afar, and recruitment is carried out "in location" without a need to relocate individuals to corporate headquarters.
Boardrooms recognize global compliance and the need to lead. Global compliance is becoming an essential part of global corporate strategies, and recognition and respect at board level is ensuring that corporate behaviors are being led from the front.
Life sciences and healthcare (Jonathan Cheng):
In vitro diagnostics gets graded. The EU's In vitro Diagnostic Medical Devices Regulation will be in place on 26 May 2022. This new regulation for in vitro diagnostics (IVDs) will be graded into four categories in accordance to the risk they pose to health and safety, from Class A (low risk) to Class D (high risk). IVDs will be required to undergo assessment and certification by a notified body prior to being placed on the market, and the responsibilities are now shared with distributers, importers and authorized representatives.
Divergence of UK-EU gene-editing regimes. The UK will differ from the EU on genetic editing of plants. A change in the definition of genetically modified organisms (GMOs) would bring the UK more in line with countries like the US, which allows Crispr-edited crops to sidestep regulation governing GMOs. The UK government says this will give way to innovation in healthcare, sustainability, and agriculture, and has set out its plan to diverge from the EU regime for gene-edited plants.
mRNA's wider application. Messenger ribonucleic acid, better known by its acronym, mRNA, will go beyond Covid-19 with the technology now proven for vaccine development, as the pharmaceutical industry looks to extend its potential applications into infectious diseases, cancer, as well as auto-immune conditions. However, a questionable consensus on trade secrets and intellectual property waivers has continued to loom over the technology and process. 
Telemedicine and virtual care. Healthcare providers will continue to improve technology that delivers telemedicine and virtual care programs allowing doctors to monitor patients remotely using sensors to view vital signs as well as collate additional health information in real time. 
Data accelerates biotech innovation. Data continues to evolve and accelerate biotechnology innovation. Utilizing artificial intelligence (AI) and machine learning to improve drug development and manufacturing processes by identifying patterns in clinical trial study results, as well as predicting patient response to medications or analyzing diagnostic results.  
Tech, media and comms (Felix Hilgert):
Consumer protection is the new data protection. Under the EU New Deal for Consumers, consumer law breaches covering multiple Member States will be subject to General Data Protection Regulation-style fines of up to 4% of global annual revenue. The legislative package also enhances other consumer protection rules and creates new transparency requirements. Additionally, Germany has introduced new rules for business-to-consumer (B2C) subscriptions (which are stricter than in California!), and consultations have been launched on similar legislation in the UK.
New laws for a new year. European contract law for digital goods and services as well as "smart" products came into force on 1 January 2022. The legislation implementing the Digital Content Directive and Sale of Goods Directive creates a new concept of "payment with data", and will impact contracts, sales flow, and back-end processes for any B2C distribution. 
Digital regulation steps up. There is a general regulatory trend in Europe (including the UK) to put more responsibility on platform providers to police user content and user interaction, and protect vulnerable users from risky interaction with the platform itself. More digital regulation is on the horizon with the proposed Digital Services Act and Digital Markets Act, as well as Online Safety Bill in the UK.
AI regulation is coming. Machine learning and AI could help with some of these and other challenges, but EU-wide regulation is coming in the AI space as well, which will restrict some high-risk applications and create a liability regime for all others.  
New clauses for the transfer of personal data outside the EU. The European Commission has issued new sets of Standard Contractual Clauses for the transfer of personal data outside the EU. Cloud providers should check and update their data processing agreements and implement Transfer Impact Assessments. Data protection authorities in Germany have recently made public comments on stepping up the enforcement.
Retail and consumer (Kelly Harlick):
Online-offline integration. A seamless integration of online and offline will be critical to success in 2022. Store experiences need to be digital and data driven. By seamlessly integrating data across web, mobile, storefront and inventory channels, retailers can digitally expand their physical footprint while providing the connected, personalized experiences shoppers want. A recent survey of industry trends found that 43% of US retailers who sell on social platforms, such as Instagram and TikTok, say half or more of their revenue comes from social media sales.
"Buy now, pay later" is the new norm. Fee-free "buy now, pay later" (BNPL) payment plans will become the norm in 2022 as more competitors enter the "pandemic economy" fray. These BNPL plans enable shoppers to get their items up front without interest or other fees, assuming they pay within the allotted number of installments. The service is more prominent online, but mainstream retails, including Walmart, accept them.
Digital commerce becomes less cryptic. There are more than 6,000 cryptocurrencies on the market, and more retailers are accepting them. But crypto shouldn't block them from also testing non-fungible tokens (NFTs) – digital files linked to blockchain that grant ownership to digital content. In October, Dolce & Gabbana sold a nine-piece collection of fashion NFTs for a record $6 million. This phenomenon is bringing a new level of innovation to the world of retail.
Experimentation with sustainable materials takes off. Retailers can be expected to accelerate their climate ambitions in 2022 by overhauling their most carbon-intensive processes opting instead for natural-based solutions. Material experimentation will reach fever pitch, leading to greater investment in more responsible alternatives to combat rising cotton prices and the impact of conventional fabrics and animal agriculture on people and natural resources.
"Greenwashing" and carbon footprints. "Greenwashing" crackdowns and a heightened public awareness of fashion's carbon footprint mean retailers will need to adopt brutally direct marketing to retain or, in some instances, reclaim consumer trust. The identifying and use of "conscious materials"  is the primary way retailers indicate sustainability, but retailers can't genuinely brand their activities with this term if their environmental policies are not developed across their business –  which is an approach that requires transparency. European financial regulators are identifying more cases of greenwashing and clamp down on businesses that cannot back up what they claim. 
Transport and automotive (Christina Nordin):
E-mobility. As the industry continues to change with pace, what are the implications for the way e-mobility is used in urban environments? What does this mean for connected industries such as real estate, logistics, technology, retail, financial services, and automotive and energy? 
Unmanned aircraft systems. How will future European regulatory developments enable this burgeoning sector to flourish? Having been boosted by the pandemic, the use of drones across a wide range of industrial applications and the continued high level of investments into revolutionary air-mobility solutions are proceeding rapidly. Europe's regulators are now tackling increasingly complex air operations and OC's dedicated international air-mobility team will be following this area very closely, having sponsored an international conference in Cologne at the end of 2021. 
UK National Security and  Investment Act. This new UK legislation, which came into force on 4 January 2022, creates a new standalone regime for the UK government to intervene in a broad range of UK-related transactions on national security grounds. Any US businesses looking to make an acquisition of targets or assets operating in the UK will need to start incorporating national security assessments into their transaction processes. Notably, the acquisition of a target that carries out activities in defined high-risk sectors (which could catch tech-related mobility targets, for example, as part of 17 specified areas of the economy) will need mandatory advance clearance from the UK government.  
Financial Services and fintech (Rachel Ward):
Open Banking and Open Finance initiatives. Open banking initiatives, which are driven by a desire to promote competition and innovation in the retail banking sector, are well-established in the UK and Europe. Under open banking, customers are able to share their bank accounts with trusted third parties that can then provide services such as aggregating data from multiple accounts or initiating payments. The focus is now turning towards open finance, the extension of open banking-like data sharing to a wider range of financial products, such as savings, investments, pensions, and insurance. For example, in the UK, a pensions dashboard is being developed that will show a user their pensions information online all in one place and is expected to roll out from 2023.
Move towards the regulation of cryptoassets. Regulators worldwide are mulling their approach to cryptoassets, which are currently unregulated. In the UK, there have been incremental steps towards limiting the most serious potential harms arising from cryptoassets: certain cryptoasset derivatives are banned from sale to retail investors and cryptoasset businesses now need to be registered under anti-money laundering rules. This year, the UK government is expected to confirm its broader regulatory approach to cryptoassets and their promotion, while the EU authorities progress towards a regulation on markets in cryptoassets. Authorities globally are also carrying out work on central bank digital currencies; both the European Central Bank and the Bank of England are investigating the possibility of launching a digital euro and pound. 
Anti-money laundering and counter-terrorist financing. This remains a high priority for regulators: the EU is set to introduce a new anti-money laundering (AML) authority by 2024, the UK government is reviewing AML rules following Brexit, and high levels of financial penalties were handed out to firms last year. The rules and guidance in this area are not always accessible, particularly to new entrants to financial services and the Fifth EU Money Laundering Directive has added complexity. Compliance can be challenging for fintech businesses, with issues commonly arising around reliance and complex intermediary chains. However, investing time and resource in AML compliance upfront at an early stage pays dividends down the line. 
Consumer protection. Protecting consumers remains a common theme for regulators, as new technologies and markets open up new potential risks of consumer harm. Firms will need to remain mindful of changes being driven by this agenda. The UK Financial Conduct Authority is bringing in a package of measures around a new "consumer duty" for firms across the board, including the new Consumer Principle that requires firms to act to deliver good outcomes for retail customers. Meanwhile, the UK Payment Systems Regulator is working on improving scam prevention and reimbursing victims of authorised push payment (APP) fraud. Over the last year, APP fraud has grown rapidly.  
Operational resilience. Increasing digitalisation across financial services has prompted concerns around cybersecurity and the reliance of businesses on technology. A new policy framework designed to strengthen firms' resilience is being put in place in the UK, with a one-year implementation period coming to an end on 31 March 2022, while the EU authorities are working on rules for a harmonised and comprehensive digital operational-resilience framework across the bloc's financial sector. 
Energy (Malcolm Pobjoy):
Energy Balance. Volatility is expected to be a feature of 2022. Bank of America is forecasting crude oil to reach $100 per barrel in 2022 allied with climate dynamics causing a fall in wind-based energy (for example, UK wind-based power contribution fell from 25% down to 7% 2020 to 2021) are indications of the challenging times facing energy markets. The road to net zero and more climate-friendly energy sources will be bumpy as the world grapples with short-term supply demands over long-term infrastructure investment.  Energy investors will need to balance these forces and this will be key to their success. 
Net-zero actionable plans. Much has been written about the legacy of COP26 and the lasting impact of decisions made or avoided at the Glasgow summit. However, it appears that one outcome will ripple across virtually all businesses: the need to define their route to net zero. Whether it is due to regulatory, investor or consumer demand, each company must produce not only statements of intent but also actionable plans to achieve carbon-neutral footprints. Understanding the local regulatory and cultural aspects to the implementation will be key to building a creditable action plan.
Climate-friendly energy storage and distribution. Large strides have been made on climate-friendly energy production in recent years and across all types of renewables, such as solar, wind, wave and others.  Further advances can  be expected in 2022 on the development of infrastructure to store and distribute that power. New projects and technologies in battery storage are springing up across the globe to make power available in places it is needed and when it is needed (as they frequently where and when it is generated do not match); one is example is the emergence of large-scale battery storage farms. Osborne Clarke's recent "Sustainable Disruption: 12 Decarbonizing Technologies for Cities" report, which was authored by Economist Impact, identified vehicle to grid (V2G) technologies as having a potentially big impact on decarbonization. However, V2G is currently not reaching its potential due to a lack of funding - and this could change in 2022.
The future of work and international HR (Rachael Oakley):
Hybrid working. The Covid-19  pandemic and digitalization, more generally, have together transformed the ways in which people worldwide work. Hybrid working will continue to be a buzzword in 2022 as businesses navigate these new ways of working. Particular challenges will be for international companies that are looking to have a consistent approach and need to navigate global employment laws.
Health and Safety and vaccination. Workplace safety has naturally come to the forefront in recent years and will continue to be a focus for business. In particular, the requirement to vaccinate and test will likely continue to be a major challenge in 2022 , particularly for international businesses that have to keep abreast of the changes in laws worldwide  (from an employment and data privacy perspective) in this area.
"Green" HR and jobs. As businesses look to achieve and set more ambitious ESG targets, more is likely to be heard about "green" HR and jobs. We are already seeing more nuanced jobs in all sectors, either via specifically focussed roles, such as sustainability managers, or through upskilling and reskilling existing employees in more sustainable practises; for example, the training of portfolio managers in more sustainable investment options. The International Labour Organization has said that were the UK alone to achieve its ambitious zero-carbon goals then it would lead to the creation of 18 million jobs globally, although there might be a lack of skills in this area to fill these roles. 
Sustainable work practices. Businesses are increasingly likely to build-in sustainable working practices alongside diversity and inclusion measures in the workforce. Businesses are already considering  inventive ways to encourage the workforce into more sustainable mentalities, one way being via benefits packages, such as the removal of car allowances in place of public transport initiatives or allowances for hybrid or fully electric cars, budgets for energy-saving home improvements, and internal reward programmes for those who develop creative ideas and solutions for helping business to be more environmentally friendly.