Cologne / Germany, 28.10.2019. The journal JUVE has twice named the international legal practice Osborne Clarke as the Law Firm of the Year for 2019: in the categories Technology & Media and IT & Data Protection. These wins carry on from the Firm's strong performance at the 2017 Juve Awards where the firm won Law Firm of the Year in the digitisation and technology in the public perception categories.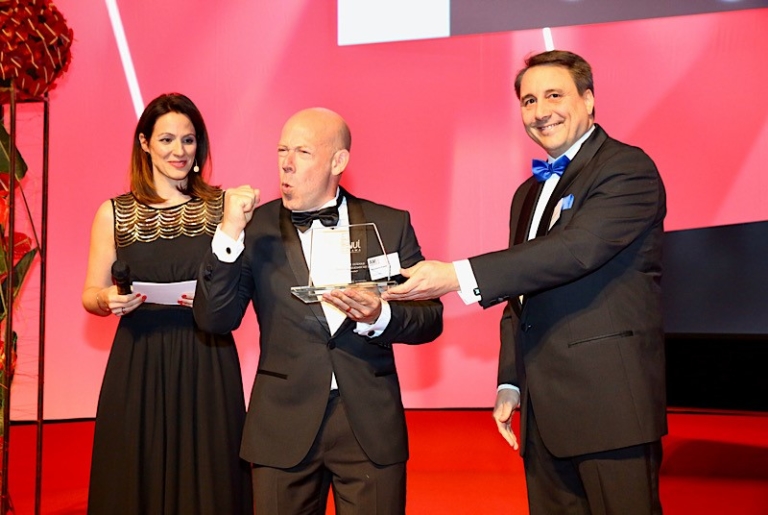 Lisa Gadenstätter, Konstantin Ewald (Osborne Clarke) and Christian Zimmermann at the award ceremony in Frankfurt.
Photo: JUVE Verlag / Christina Kloodt
"Only a few law firms have so cleverly used the hustle and bustle of the General Data Protection Regulation (GDPR), and their success has gotten around. Hardly any team is praised as broadly as Osborne Clarke's", said the judges at the award ceremony in  Frankfurt.
"The law firm recognised the relevance of privacy issues early on and drove the specialisation of its lawyers forward. This business policy foresight has ensured the Firm has had a very successful year. The team led by Flemming Moos and Konstantin Ewald not only advised on the GDPR, but is also establishing itself as a strategic advisor on digitisation. The Berlin office, which opened in the previous year, is now also bearing fruit, for example, through new clients such as Zalando", comments the judges.
"We are very happy about the double award for the JUVE law firm of the year! These wins are a testament  to our team's excellent performance and our high level of operational and strategic expertise in the fields of digitisation and technology ", says Carsten Schneider, Managing Partner Osborne Clarke in Germany.
The journal JUVE annually awards law firms for their particularly dynamic development based on researches with more than 20,000 contacts with companies, lawyers and in the judiciary.
Corporate communications and press contacts
---
Connect with one of our experts