Christian von Buehler advises national and international companies on all issues of German and European data protection law; particularly regarding online marketing, the introduction of digital tools, and employee data protection.
He is specialised on providing advice to international companies, both in the context of comprehensive projects for the establishment and optimisation of compliance frameworks under data protection law, and for the introduction of tools and systems in the context of complex digitisation projects. Here, he predominantly focusses on the technology, transportation and energy sectors.
In addition to providing in-depth advice on legal options in the field of online-marketing, he particularly focuses on assisting international companies with data protection issues and related legal matters in the areas of employee data protection, outsourcing and the structuring of international data transfers.
Christian studied law at the University of Bonn. During his legal clerkship, he worked for the German-American Chamber of Commerce in New York City and for Osborne Clarke in the Cologne and Thames Valley (UK) office.
He is a member of the German-American Lawyers Association (DAJV). 
Mr. Störing and Mr. von Bühler are two outstanding lawyers, with a sense for the requirements of a globally active company. They develop pragmatic solutions and are always thinking along, which makes working with you a real pleasure.
Helping you succeed in tomorrow's world
While a few global players were already well prepared in the long term for the entry into force of the GDPR, most companies have built up the most basic data protection compliance structures rather frantically within a very short time. Particularly amongst international companies, mandatory data protection procedures are often still in their infancy. It is high time to catch up here.
But even the most reliable data protection structures cannot be rested on. The highly dynamic nature of this area of law as well as the rapid pace of digitalisation, particularly during the COVID pandemic, require established procedures to be reviewed and adapted on an ongoing basis.
As part of a team specialising on data protection law, I help clients to create sustainable and resilient data protection structures and to keep them up-to-date against the backdrop of the dynamic development of the legal landscape and technological progress. Only those who understand the risks, recognise them in time and classify them correctly can make reliable economic decisions and protect themselves from unpleasant surprises.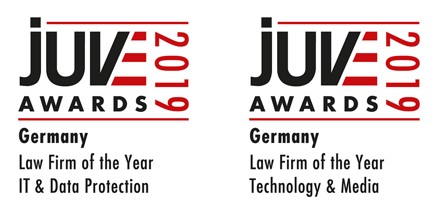 Work
Allianz Real Estate GmbH
Extensive involvement in the strategic project of the world's largest real estate investor in the field of smart building. Handling of related legal issues around data, in particular data protection.
The European Commission
Participation in an EU-funded project to explore possibilities for data exchange in the transport sector and lead development of a Code of Conduct.

Law Firm of the Year 2019 for IT & Data Protection & Technology
The journal JUVE has twice named the international legal practice Osborne Clarke as the Law Firm of the Year for 2019, read more