Osborne Clarke's Bristol Office has moved to Halo, one of the most sustainable office buildings in the UK and part of the award-winning Finzel's Reach regeneration project.
The 116,000 sq ft Halo site was developed by Cubex and funded by Fiera Real Estate. The internal fit-out of Osborne Clarke's new workplace was completed by strategic office design and build company, Interaction.
The highly-anticipated move sees the firm relocate 780 employees from its Temple Quay office into the top five floors of the smart Grade A building, covering 74,000 sq ft in total. Halo is the first office building outside of London to achieve BREEAM Outstanding certification against 2018 sustainability assessment criteria.
"We're thrilled to be moving into our new home at Halo, a workspace that perfectly encapsulates our future-focused approach with its cutting-edge design and technology."
"We're thrilled to be moving into our new home at Halo, a workspace that perfectly encapsulates our future-focused approach with its cutting-edge design and technology. The new office is integral to our continued success as a leading employer in the region, investing in our people, clients and local communities," said Lara Burch, Head of Osborne Clarke's Bristol Office.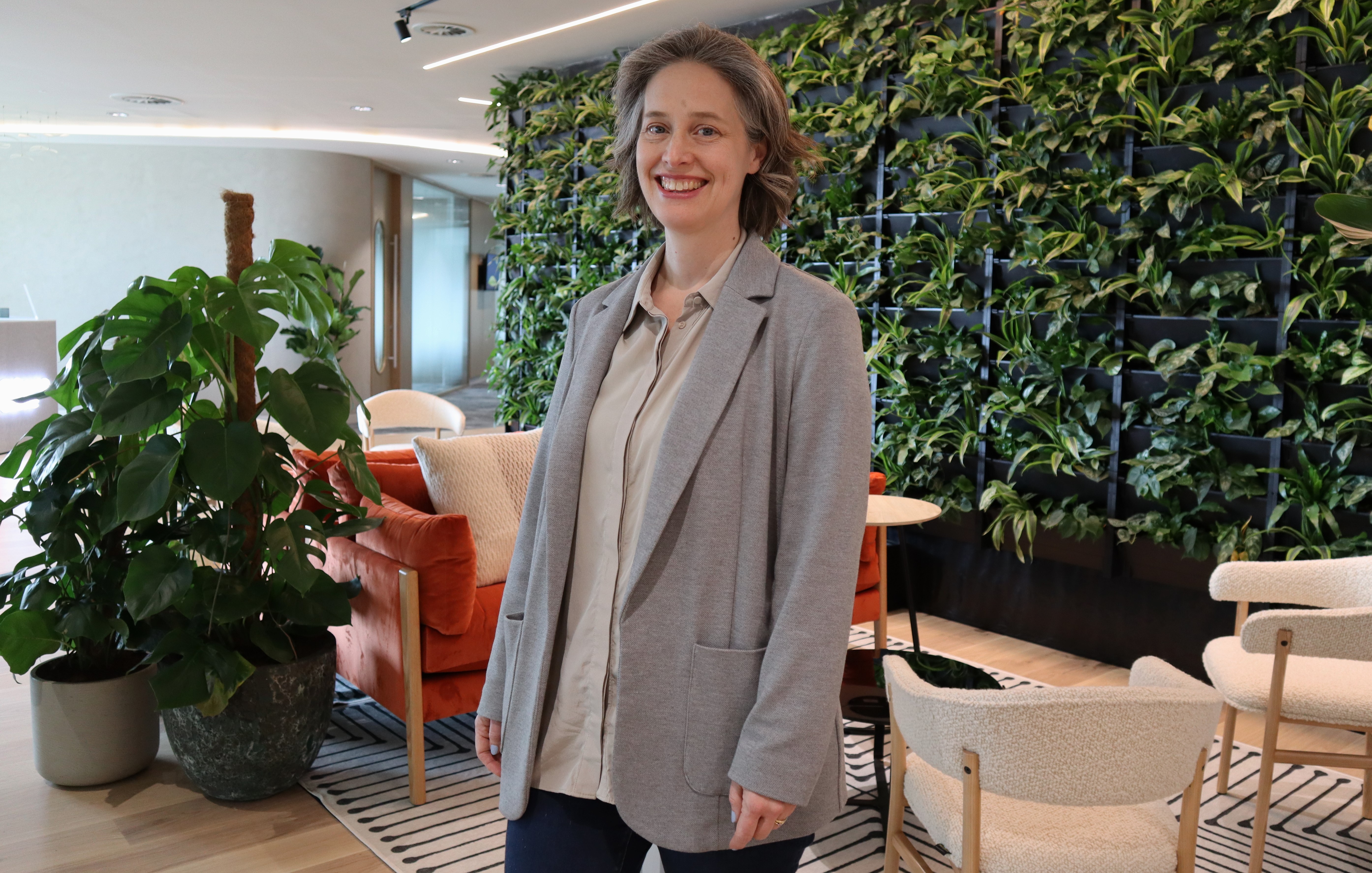 Image: Lara Burch, head of Osborne Clarke's Bristol office at new Halo office. Image credit: Megan Spiers.
From its early Bristol beginnings, Osborne Clarke has grown to 25 international locations across Europe, Asia and the US and the firm continues to deliver year-on-year financial growth. Last year saw its strongest results to date with UK revenues up 20% to £199.1m and net profit increasing 14% to £77.2m.
Lara added, "Despite challenging economic markets, the South West region continues to attract top talent and cement its reputation as a tech, energy and life sciences innovation hub. With plenty of exciting opportunities, our unique 3D client strategy helps us to deliver great results and clients appreciate the added value it brings."
The firm's market-facing three-dimensional client proposition combines legal expertise, sector understanding and transformational insight across three of the key intersectional issues facing businesses and society today: digitalisation, urban dynamics and decarbonisation. Earlier this year, Osborne Clarke advised Ameresco on Bristol City Leap deal, a 20-year partnership with Bristol City Council. The project aims to develop opportunities for low carbon infrastructure and achieve carbon neutrality by 2030 in Bristol.
"Alongside our work advising clients on environmental and decarbonisation matters, prioritising our own responsible and ethical credentials, including our green workspace, is key to our business strategy," commented Lara.
The Halo building is connected to the low-carbon district heat network, a significant part of the Bristol City Leap project. Other green technology features include roof-top mounted solar panels reducing dependence on fossil fuels, highly efficient LED lighting and air quality monitoring technology to see and enable a response to levels of pollutants in the indoor environment.
Osborne Clarke has consistently been recognised for its outstanding culture. To ensure its new office would meet the needs of its people and reflect its core values, the firm commissioned Interaction to create a standout design which responded to extensive employee consultation. The office features extensive indoor planting including "living walls" and indoor gardens, with the fit-out using reclaimed tiles and recycled materials to support the firm's focus on sustainability.
"Wellbeing, agile working and sustainability are at the heart of Halo's innovative workplace design. We understand the importance of supporting positive employee wellbeing to create an environment where people feel they belong, understand expectations and can be happy and healthy. It's the foundation for strong performance and in turn, the best way of ensuring we achieve great results for our clients," noted Lara.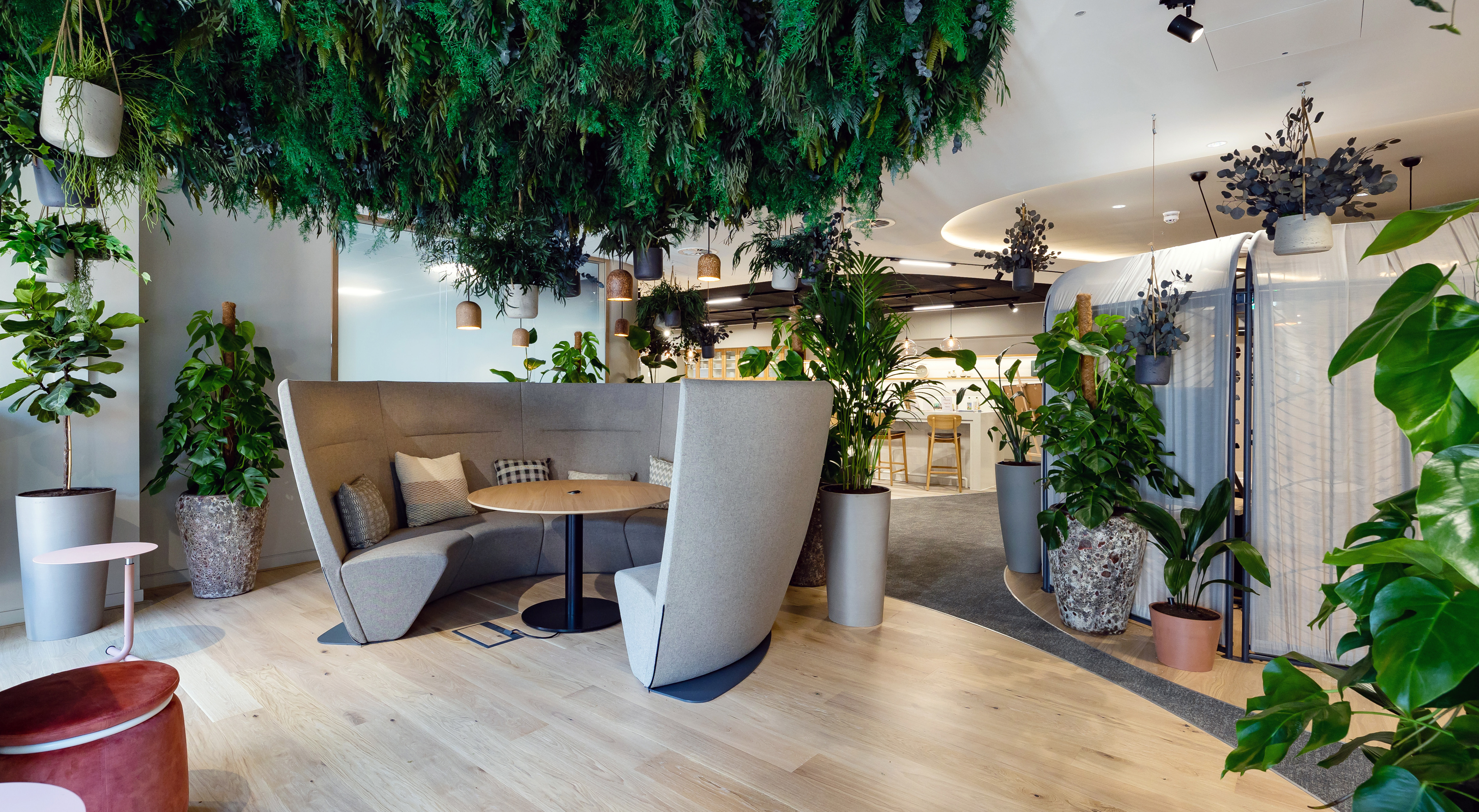 Image: Collaborative workspace with indoor garden at Osborne Clarke's Halo office. Image credit: Interaction.
The firm has registered to pursue a WELL Building certification for its internal fit-out at Halo. It has worked closely with Interaction to maximise space with excellent digital connectivity and use natural materials and light in order to achieve the standard.
"Osborne Clarke puts the wellbeing of its employees and sustainability at the centre of everything it does."
"Osborne Clarke puts the wellbeing of its employees and sustainability at the centre of everything it does. We're really proud to have created a super-flexible workspace that fully embodies the firm's core values", said Dieter Wood, Managing Director at Interaction.
Dieter continued, "Our design team worked closely with employees across the firm to get a real feel for their working culture. The result is a workplace that promotes staff health and agile working, while also meeting strict sustainability standards.
"It's been a pleasure to work with such a forward-thinking law firm that shares similar values to our own."
Destination points on each level, an informal creative space, and flexible meeting areas with moveable walls and furniture have been strategically designed to encourage greater collaboration and movement between floors. Key features include indoor gardens where people can work away from their desks, a yoga and spin studio and a restaurant with a roof terrace.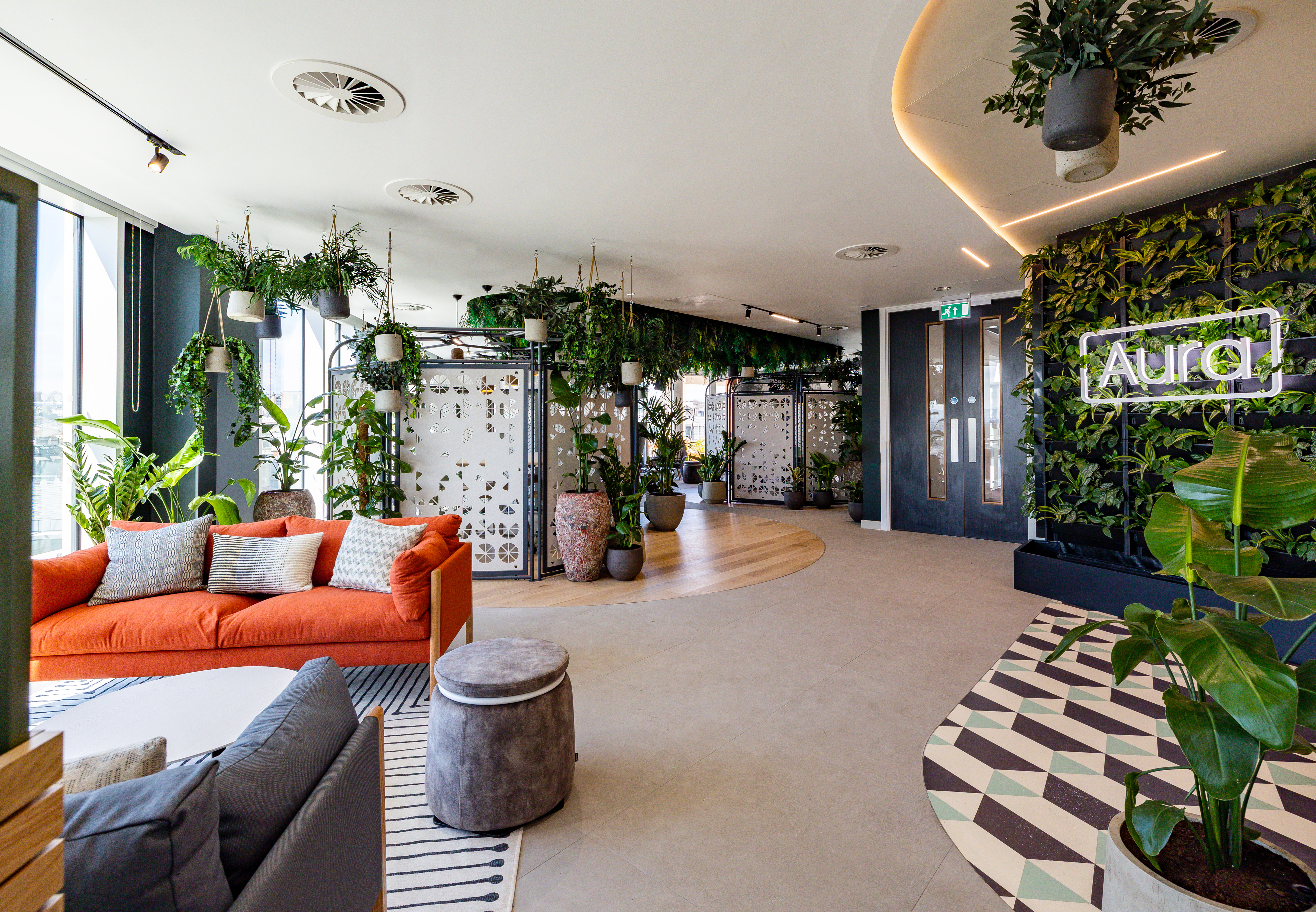 Image: Restaurant at Osborne Clarke's Halo office, featuring "living wall" and rooftop terrace. 
Corporate communications and press contacts
---
Connect with one of our experts