We're exceptionally proud of what we've built and who we are
A successful firm with a global footprint and a clear vision, working alongside interesting clients on their most vital matters.
A firm that never stands still - always looking for the next challenge. And a firm that cares about its people, investing in their futures and supporting their well-being.
But as proud as we are of our achievements, what really sets us apart from other firms is not something that we could truly do justice to in writing:
Our people
Highly skilled, with diverse perspectives, united in their drive to do things better.
Our culture
Driven by openness, fairness, curiosity, and inclusivity.
Our open positions
Junior Employment Law Associate
Administration Team Trainee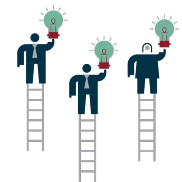 You didn't find anything for you?
Don't worry! We're still growing and are always on the lookout for exquisite talents. Leave us your contact details and CV.
 
What distinguishes working at Osborne Clarke is the unique company culture. We are not only cared about, but also challenged to engage in all different kinds of corporate matters. Katarzyna Chruślińska - Associate
. It is wonderful that I have the opportunity to work with people whose view of legal issues is sometimes different, but also very inspiring. Thanks to joint thinking, we can find the best solutions for our clients Monika Gaczkowska - Senior Associate
At Osborne Clarke we are aware that the winners from the past few decades have been those who have taken advantage of the market's direction, of change and of technological developments. Their fortunes have been shaped by grasping opportunity. Renata Dłuska - Partner
Being an international firm, Osborne Clarke provides me with an exciting opportunity to interact with a wide variety of people around the world on a daily basis. Osborne Clarke is a great, people-oriented place to work, where no two days are ever the same Daria Kornak - Assistant
Inspired by… each other
As an international firm, we know first-hand what inviting a diversity of perspectives delivers – creativity, innovation, and a truly inspiring workplace.
That's why there's no one type of Osborne Clarke lawyer. And why your story, your ideas and who you are matters from Day 1. Because we never just see a trainee, we see a bright mind with a fresh perspective. At Osborne Clarke your opinion counts, and your voice is always heard – even when it's not the loudest in the room.
Your career at Osborne Clarke
Together we're building the best place to work.
We are only as good as our people and that's why we dedicate particular attention to selecting our colleagues. Among the talented people working with us we look for: hard work, potential and creativity.
You can count on honesty and transparency at every step of the recruitment process. We consider each candidacy carefully and fairly, without exception. Your competences count for us. We also guarantee that by participating in recruitment you will always receive feedback.
26
International locations
3
Transformational trends