Financial results 2018: Osborne Clarke reports 15% UK revenue increase; 14% internationally
8 June 2018: Osborne Clarke has announced its 2017/18 year-end financial results with a 15 per cent revenue increase from £121m in 2016/17 to £139.3m in 2017/18 in the UK.
In addition to revenue growth, in the UK net profit and profit per equity partner (PEP) increased 17 per cent and 11 per cent, respectively. Net profit grew from £52.5m to £61.2m in 2017/18, while PEP went from £642k to £711k in 2017/18.
Internationally Osborne Clarke achieved an income of €273m, a 14 per cent increase on revenues in the previous year.¹ Non-UK revenue accounted for 42 per cent of total international revenue in 2017/18.
During the last year, Osborne Clarke made a significant number of investments in recruitment and retention, innovation and technology. At the same time, the firm has maintained its financial stability with cash resources for 2017/18 at £23.1m against £23.3m in 2016/17.
Ray Berg, UK Managing Partner Osborne Clarke commented: "Investing is a key priority for our leadership team. We really see ourselves as the custodians of the business for the future generations so we want to ensure Osborne Clarke continues to deliver on the expectations of our people and our clients."
The firm continued to invest in recruitment and development to support its sector-focused approach and strengthen its capabilities. This year Osborne Clarke appointed 32 international Partners across Europe and Asia, of whom nearly a fifth (19 per cent) are female and the UK also made five partner and two legal director promotions in May 2018.
Innovation was also at the top of the investment agenda and the business financed a new client service innovation team and set up a new business unit called Osborne Clarke Solutions, a bespoke shared technology platform.  The firm created the brand, office space and operating model during the last year.
Investment in technology continues to be a key priority as the business continues to deepen client relationships and improve efficiency. In 2017, Osborne Clarke was the first EMEA firm to implement iManage with Microsoft Office 2016 and Windows. The firm also achieved the UK Government's Cyber Essentials Plus standard accreditation and accredited the UK LLP to the International Organisation for Standardisation's (ISO) Information Security Management (27001:2013) standard in 2017.
"We would like to thank the entire team for all their ongoing efforts in helping us achieve these outstanding results. Our clients tell us we have a great market reputation for strong client service and outstanding relationship management, which makes us all really proud to work at Osborne Clarke," said Ray.
The international business represents clients ranging from market leaders to fast-growth companies including: Foresight, Barratt Homes, One Point, InfraRed and Ascential. Osborne Clarke also joined the panel for the Department for Transport and was reappointed to the panels for Pension Protection Fund and Vodafone during the last year.
The firm continued to target new international markets in 2017 and in addition to opening in Sweden Osborne Clarke expanded in Asia by entering Mainland China and admitting new Shanghai-based firm, Zhang Yu & Partners, to its international network. The firm's relationship firm, BTG Legal, also opened an office in Bangalore.
Simon Beswick, International CEO Osborne Clarke, commented: "This year marks an important milestone as we set our international expansion plans in 2012. It's been an exciting five years – and working closely with our affiliates, we've opened 21 offices in 11 markets across the US, Europe and Asia. We've evolved our sector-first strategy and consolidated our focus in the areas which we feel are really impacting on our clients' businesses both today and in the future. We've achieved excellent levels of growth and we're proud our strategy has continued to pay off."
¹ Final revenue for FY2017/18 was €273m; consistent currency basis of Euro to GBP 1.14 applies for FY2016/17 and FY2017/18.
Ray Berg and Simon Beswick pictured at the fifth anniversary party for Osborne Clarke in Belgium on 7th May 2018.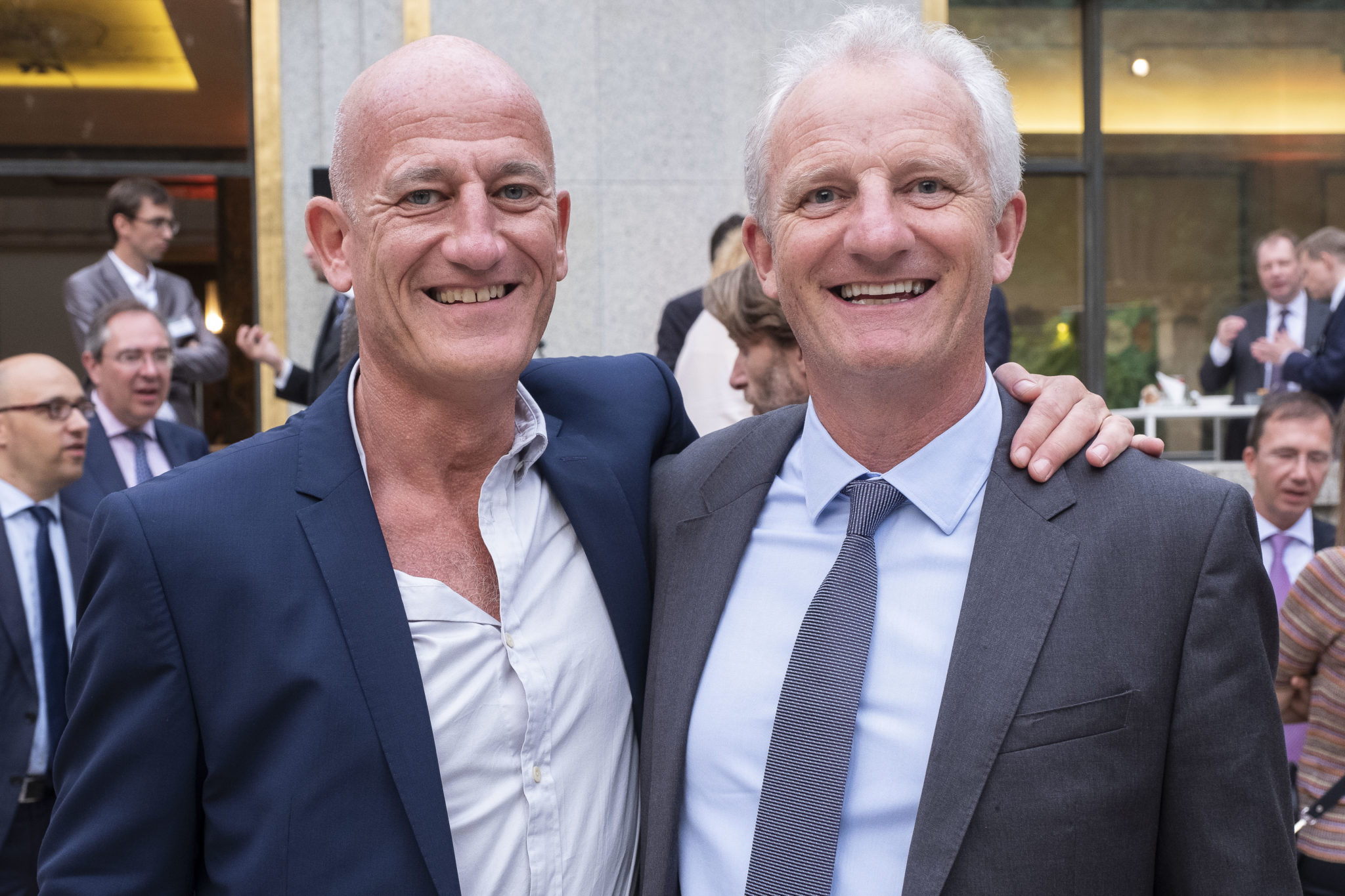 Corporate communications and press contacts
---
Connect with one of our experts