Tech, Media and Comms
Osborne Clarke releases new report Next-generation connectivity
Published on 19th Oct 2018
Next-generation connectivity encompasses not just 5G connectivity, but also full-fibre broadband, satellite internet technologies and other technologies making connectivity easy, reliable and ubiquitous.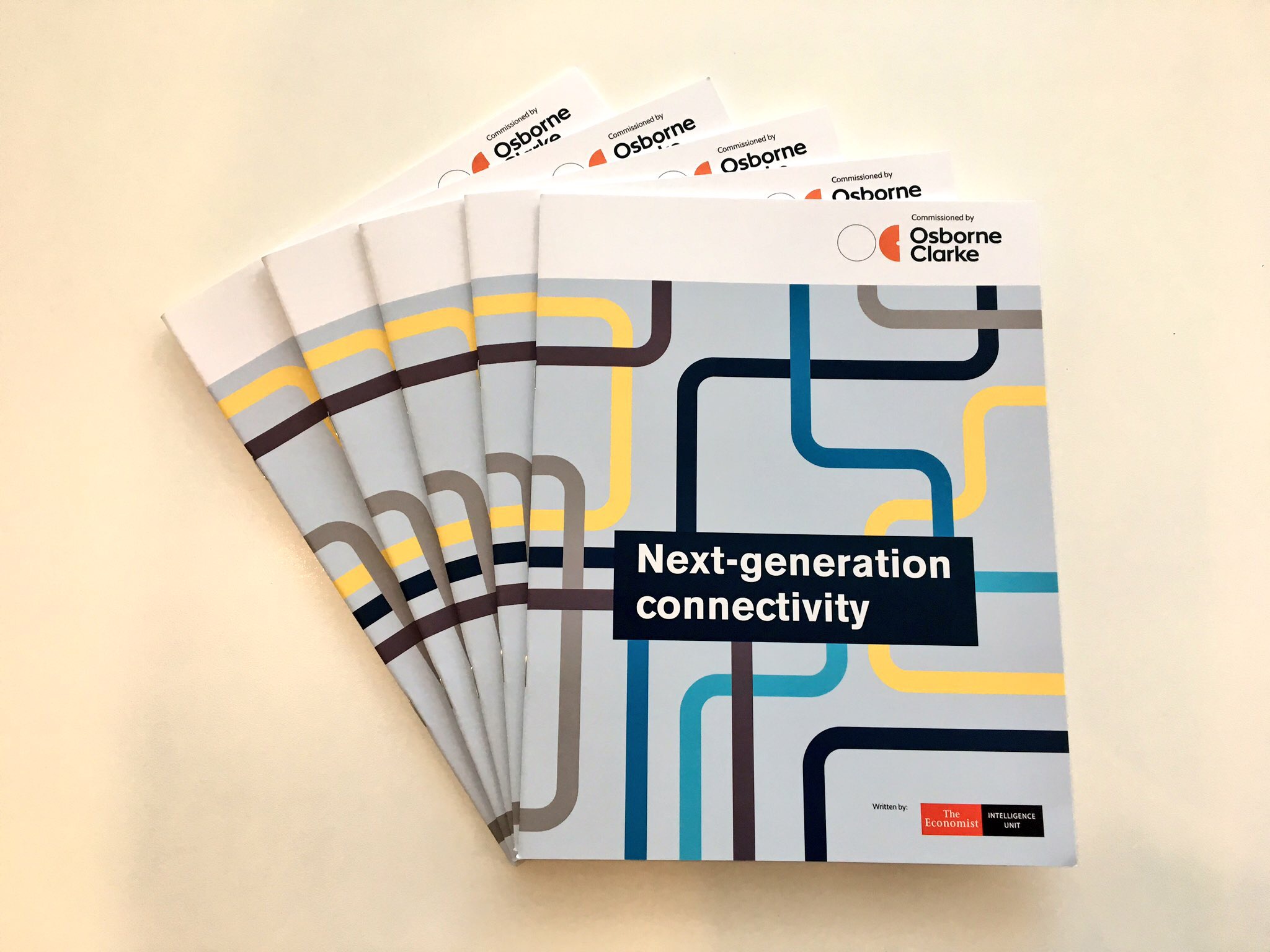 On 18 October 2018, Osborne Clarke launched its Next-generation connectivity report. The Next-generation connectivity report was commissioned by Osborne Clarke and the research was undertaken and the report was written by the Economist Intelligence Unit (EIU). Next-generation connectivity encompasses not just 5G connectivity, but also full-fibre broadband, satellite internet technologies and other technologies making connectivity easy, reliable and ubiquitous.
Key themes of the event:
Connectivity is blurring the boundaries between the physical and the digital, for example, through the Internet of Things (IoT), Virtual Reality (VR) and Augmented Reality (AR).
Connectivity is facilitating disruption and new business models, for example, businesses in traditionally physical industries, such as manufacturing, adopting "as a service" business models.
Expanded connectivity brings enhanced cybersecurity risk where every new connection creates a new vulnerability which needs to be addressed and requires investment.
Ubiquitous connectivity and data gathering raises issues of ethics, namely, what is acceptable and how to deal with "ownership" of the data.
Introduction and individual speakers
The event was off to a strong start with Jon Fell, Partner at Osborne Clarke introducing the full tapestry of connectivity of 5G, satellite internet, full-fibre and narrowband. Jeremy Kingsley, Technology Editor at the EIU, then presented the research findings of the report which was produced by surveying 550 senior executives from five sectors (digital business; energy and utilities; financial services; real estate and infrastructure; and transport and automotive) with familiarity of their business connectivity strategies. He highlighted some of the particularly interesting findings including:
Businesses in the Netherlands stand out as leading enthusiasts for next generation connectivity: Dutch respondents were the most likely to regard connectivity as "extremely significant" for their businesses.
The energy and utilities sector views connectivity as very strategically important, especially, to be able to collect and interpret data for the purposes of meeting the energy demands of customers flexibly and efficiently.
Historically, the investment into connectivity has been led by the Tech, Media and Comms sector. Increasingly, physical sectors such as real estate, construction and transport are now also investing into connectivity.
Physical sectors are more likely to be adopting formal strategies and making investments into connectivity, suggesting that they are getting initiatives up and running. By contrast, businesses in the Tech, Media and Comms sector, where connectivity is part of everyday business, are more likely to be building standalone divisions and investing in talent, suggesting growth of more established approaches.
As an example of how technology and perceptions have evolved and how it is difficult to anticipate fully the impact that new connectivity will have, Jeremy Kingsley mentioned the card game BURN RATE which was released after the dot.com bubble. The game contained cards labelled "bad ideas" and these include: online grocery stores, internet money and free internet. Ironically, these "bad ideas" are now a reality.
Tom Harding and Flemming Moos, both Partners at Osborne Clarke, set out the potential legal challenges to the commercial exploitation of connectivity. These include cybersecurity, ownership of data, commercialisation of data and liability and risk in new business models. Businesses will need to draft contracts which cover these new issues. Tom Harding set out an interesting question of liability in a scenario where a doctor is performing remote surgery and the connection cuts out. There are important legal questions which could have a significant impact on privacy, health and safety and liability of businesses and individuals.
Panel discussion
The panel of industry experts was made up of Jeremy Kingsley (Technology Editor, EIU), Béatrice Delmas-Linel (Partner, Osborne Clarke), William Newton (President and Managing Director, WiredScore), Declan O'Halloran (Managing Director, Quintas Energy) and Jeff Travers (Head of IoT, Ericsson).
The audience engaged with the panel in a lively discussion of topical issues which included:
Ethical issues of advances in technology: just because we can, does that mean we should?
Are companies innovating solely for profit without considering the consumer?
What is the application, and the practical significance, of next generation connectivity in different sectors?
Declan O'Halloran shared insights on the ways that connectivity is beneficial to both, individuals and businesses, by drawing on his experience in the energy industry: improving health and safety of workers in remote locations who are working with high voltage equipment. He also explained the structured approach that Quintas Energy has taken to data (with the help of Osborne Clarke) where data is divided into raw data, manipulated data and derived data. Categorising data in this way allows Quintas Energy to obtain a return on investment from their derived data and the work they have done to generate it.
Jeff Travers, Béatrice Delmas-Linel and William Newton emphasised that innovations in connectivity, namely in data analytics, have to be human-centric; and the importance of businesses taking the time to consider if the new innovation is driven by the needs and desires of the consumer. In the regulatory landscape, the GDPR is aiming for a balance between allowing innovation but protecting individuals –privacy by design is a key concept in this context. William Newton adopted an optimistic viewpoint that it is possible to have sustainable business inventions and one of the safeguards is to have more informed and active consumers.
The panel agreed unanimously that it is not possible to predict what would be enabled by next generation connectivity. The effects of the current innovations in connectivity, especially 5G, are not immediate and will likely emerge in the medium to long term. Jon Fell's closing words seemed very appropriate for this fast moving field:
"as the physical and digital worlds converge, this will be the new normal, and connectivity will become a utility. We will simply expect to be connected. Connectivity will be like water out of a tap".
Our panel discuss Next-generation connectivity
https://www.youtube.com/playlist?list=PLiOIIiU0eoRq05zJzHLpM38r5ea2r_KIF