Future of work
How businesses can benefit from nurturing a green workplace
Published on 1st Nov 2022
Occupying greener premises can not only assist with business's sustainability targets but also help with the recruitment and retention of staff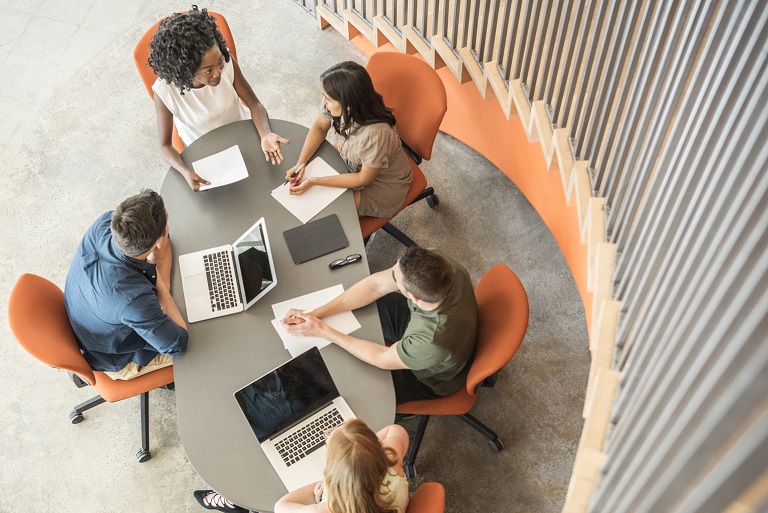 Employers who would like to encourage their workforces to work in the office more frequently are considering creative ways of enticing them back to the office. One solution to consider in attracting hybrid workers back is to shift to smaller, greener premises. 
What could this trend mean for the future of our cities?
Smaller, greener, friendlier
A recent survey of the London commercial property market reveals that tenants are choosing to downsize, with sustainability a key priority in choosing smaller premises. Lettings of premises between 10,000 and 20,000 sq ft now account for 23% of all activity in the capital. 
The demand for smaller premises will be no surprise for anyone who has returned to the office to find rows of empty desks. However, the trend is about more than simply finding smaller premises. It marks a fundamental shift in attitudes towards the workplace and, in turn, the way our cities function.
Green workplaces are energy-efficient, smaller, and incorporate more greenery (also known as being "biophilic"). They may also focus on employee wellbeing, both through physical surroundings and the ways workers are encouraged to interact with employers and colleagues. They can be a reputational asset to companies, helping to establish brand values of responsibility and compassion. 
What is a green workplace?
Sustainability touches on every aspect of an organisation, from how it sources materials to how it heats buildings and treats employees. There is no one blueprint for a green workplace, but features may include:
Energy-efficient systems for heating and lighting
Good ventilation to ensure air flow
Quality insulation to reduce energy needs for heating and cooling
Design that allows for plenty of natural light
Energy-efficient appliances and devices
Green spaces, plants and outdoor areas
Cycle-to-work schemes, bicycle parking and showers
E-vehicle leasing schemes and charging points
Grey water systems to capture and use rainwater
Use of materials and products with green credentials
Spaces designed to reduce stress and optimise wellbeing
Many organisations have a net zero carbon emissions target, helping to meet the goal of reducing UK emissions to zero by 2050. However, the carbon footprint of the workplace itself has not always featured highly in these strategies. The built environment is responsible for 25% of UK carbon emissions, so is not an area businesses can afford to overlook. 
The benefits of going green
Moving to greener premises can bring tangible benefits for organisations. Doing the right thing by the environment may be worthwhile in its own right, but there are plenty of other reasons why green workplaces make strategic sense. 
Cost reduction
With energy prices rising to record levels, it makes increasing financial sense to be based in an energy-efficient building. A smaller space with more efficient heating, lighting and appliances can bring a substantial reduction in bills, not to mention potentially reducing business rates, rental and maintenance costs.
Reputation and brand
The workplace makes a statement about an organisation's values. A smart, welcoming office with green credentials could be a reputational asset, whereas an inefficient traditional office could signal a company that has failed to move with the times. Environmental, social and governance (ESG) principles are increasingly correlated with success; companies with high ESG performance achieve operating margins around 3.1 times higher than those with poor performance.
Improved wellbeing and motivation
Research has shown that workers are up to 15% more productive and focused in energy efficient buildings due to better ventilation, light and access to green space. An uplifting space can improve morale and help to motivate and retain staff. A workplace that encourages active travel or offers recreational classes and sports can also help to improve employees' physical and mental health. 
Encouraging diversity and inclusion
Premises that are poorly connected to transport infrastructure, such as public transport and walking or cycling routes, can increase disadvantage to certain marginalised groups, including disabled people and those who do not have private transport or who live on the outer reaches of a city. Green offices that are easy to access can help to improve the diversity of the workforce. 
Osborne Clarke comment
We are demonstrating Osborne Clarke's own commitment to green principles by moving to one of Britain's most sustainable office buildings. Bristol's Halo development in the Finzel's Reach area of the city meets the toughest environmental assessment criteria and is set to receive a BREEAM Outstanding sustainability accreditation. 
The cutting-edge office space will feature a glass atrium, LED lighting, rooftop solar panels and outdoor terrace, a bike park and a glazed facade. Construction materials and fittings have been chosen to ensure they meet the highest standards. The inclusion of greenery and organic shapes will help provide a tranquil atmosphere. 
To ensure the building meets current employee needs, a consultation was carried out to understand roles and working patterns. A wellbeing room will offer employees the opportunity to unwind with yoga, pilates and spinning classes. 
There are a number of challenges for organisations in adapting to sustainability requirements and shifting employee expectations about the way in which they wish to work, including negotiating leases on property, considering employee benefits, developing effective hybrid working policies and diversity and inclusion policies, and Osborne Clarke can help businesses in all these areas.
Decarbonisation and Urban Dynamics are impacting businesses around the world.  We can help you understand the challenges presented by these issues and assist you with future proofing your business. Please get in touch with our experts below for any further information or assistance.