This is the third consecutive year the firm has reported a retention rate over 90%, with 22 out of 23 trainees staying on as newly qualified solicitors in 2021.
Widely regarded as having one of the best law firm cultures, Osborne Clarke is known for being friendly, supportive and for the last five years, the firm has ranked in the top 10 of RollOnFriday's happiest firms in the UK.
The trainees will be based across Osborne Clarke's three UK offices in London, Bristol and Reading:
Bristol
Arthur Hopkinson, CPE Planning and Environment
Ellie Downey, Commercial Disputes
George Oakes, Property Disputes
Kirsty Poulton, Corporate Tax
Liam O'Connor, Corporate
Millie Smith, Regulatory Disputes
Oliver Dawson, Banking
Owen Baldwin, FIG
Zarina Alexander, Corporate
Zoe Marks, Employment
London
Alice Benson, Banking
Capucine de Hennin, Commercial Disputes
David Antrobus, Restructuring and Insolvency
Emma Kelly, Real Estate
Gabriella Thornton, Commercial
Georgie Taylor, Commercial
Harriet Parratt, Property Disputes
Holly Barber Collis, Corporate
Isabel Boyce, Employment
Lucy Sutcliffe, FIG
Will Gill, Construction Disputes
Reading
Rebecca Davies, Corporate
Alexandra Gower, Partner and Training Principal, said: "We are incredibly proud that so many of this cohort of trainees have chosen to continue their careers with Osborne Clarke. Our training and development program puts the individual front and centre. We aim to bring out very best in our people, make the most of their unique talents, and inspire them every step of the way. The support our trainees receive is exceptional throughout every part of our business and this will continue for these trainees as they transition to newly qualified solicitors with Osborne Clarke.
"These newly qualified solicitors have had a disrupted two years with us due to Covid but each and every one has taken this in their stride and risen to the challenge showing incredible resilience and adaptability which will stand them in good stead for their future careers."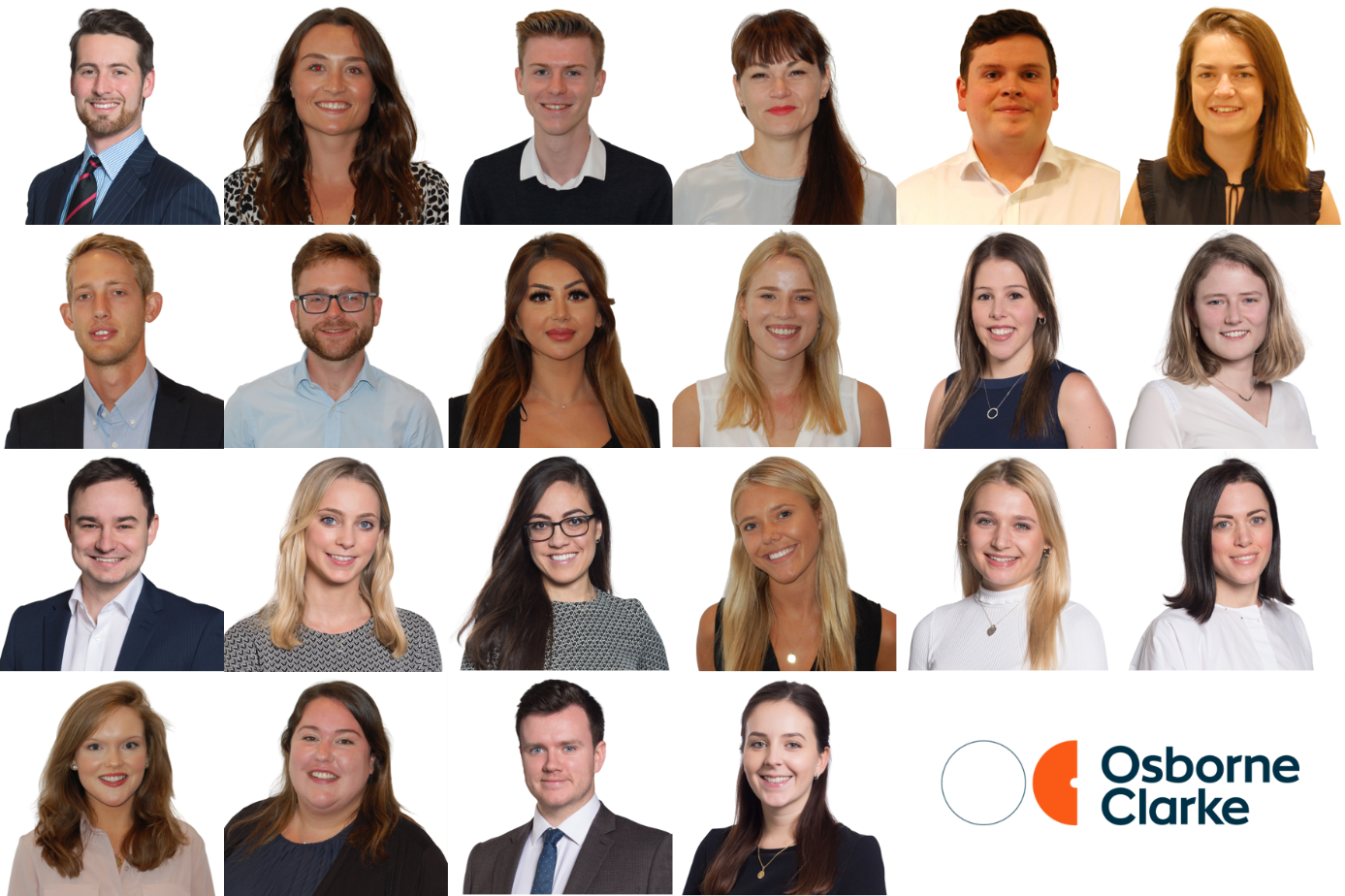 Pictured from left to right: Arthur Hopkinson, Ellie Downey, George Oakes, Kirsty Poulton, Liam O'Connor, Millie Smith, Oliver Dawson, Owen Baldwin, Zarina Alexander, Zoe Marks, Alice Benson, Capucine de Hennin, David Antrobus, Emma Kelly, Gabriella Thornton, Georgie Taylor, Harriet Parratt, Holly Barber Collis, Isabel Boyce, Lucy Sutcliffe, Will Gill and Rebecca Davies.
Corporate communications and press contacts
---
Connect with one of our experts