This is the fourth consecutive year the firm has reported a retention rate over 90%, with 25 out of 27 trainees staying on as newly qualified solicitors in 2022.
The following trainees will be based across Osborne Clarke's three UK offices in London, Bristol and Reading:
Bristol
Alice Clack, Commercial
Bethany Filby, Commercial
Chris Russell, Commercial Disputes
James Macrae, Commercial Disputes
Niall Shields Commercial
Liz Foley, Corporate
David J Morgan, Banking
Ellie Wickham, Banking
Elliot Pawley, Regulatory Disputes
Rob Camm, Competition
London
Sarah Smith, Employment
Caroline Hynes, Employment
Claudia Kasinou, FIG
Eric Edwin, FIG
Josephine O'Dowd, Commercial
Zoe Hughes-Nind, Commercial Disputes
Holly Baker, Commercial Disputes
Andy Holt, IP Disputes
Sophie  Abbott, Property Disputes
Florence Dove, Real Estate
Amber Bains, Projects
Joshua Harper, Planning
Jack Ready, Banking
Reading
Dan Charie, Employment
Chris Flach, Corporate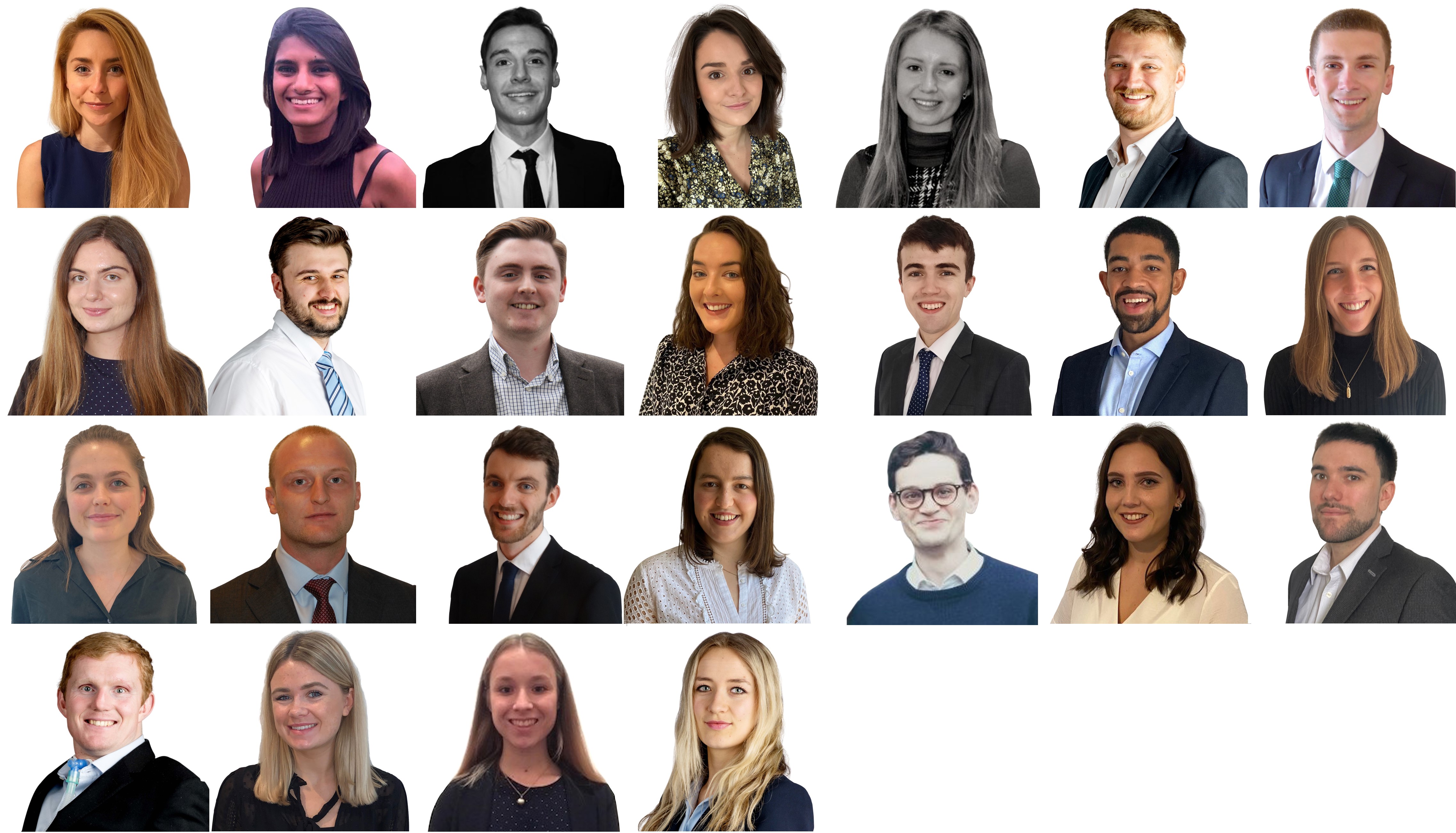 Pictured from LtoR: Alice Clack, Amber Bains, Andy Holt, Bethany Filby, Caroline Hynes, Chris Flach, Chris Russell, Claudia Kasinou, Dan Charie, David J Morgan, Ellie Wickham, Elliot Pawley, Eric Edwin, Florence Dove, Holly Baker, Jack Ready, James Macrae, Josephine O'Dowd, Joshua Harper, Liz Foley, Niall Shields, Rob Camm, Sarah Smith, Sophie Abbott and Zoe Hughes-Nind.
Alexandra Gower, Partner and Training Principal at Osborne Clarke, said: "Congratulations to our trainees who have shown great determination and dedication throughout their training.  We're especially pleased that so many have chosen to stay on with the firm again this year.
"Much of the feedback we get from our trainees is that they like the well-rounded experience we offer.  It's something we pride ourselves on – investing our energy and resources to ensure each trainee's needs are supported.  Alongside our focus on outstanding legal expertise, we also look to develop confidence, grow emotional intelligence and help our trainees to build their relationships with colleagues and clients. These are the skills we know will set them up for success as the next generation of leading lawyers."
Graham de Guise, Chief People Officer at Osborne Clarke, said: "Let's be honest, one of the big reasons we all get out of bed in the morning is because we feel rewarded at work. But feeling appreciated and valued is very specific to each individual. Quite often it's a combination of everything from working with a supportive team and manager, to being challenged by the work, to how well you are financially recognised for your contributions.
"We've spent the last year looking closely at all these elements and more to ensure our people have the best experience working for the firm. One part of this has been to regularly review our reward strategy and benchmark rates.
"We've increased our London salaries to £90,000 as we aim to be competitive with firms that we compete against for talent and work. We've set the rate for Reading at 10% less than London – £81,000, as we feel it's a genuine alternative given its proximity to and ease of commute from the city. For Bristol, we aim to keep our pay in the top three of all Bristol firms and have set our rate at £69,000."
Corporate communications and press contacts
---
Connect with one of our experts