International legal practice Osborne Clarke today announces the opening of a new office in Sweden. The Stockholm-based team aims to be the go-to law firm for assisting Nordic and international businesses in the sectors that are driving change in tomorrow's world.
The launch of Osborne Clarke in Sweden forms a key part of the firm's expansion strategy to strengthen and grow its presence in European jurisdictions. Now with 25 international offices, the firm has a presence in the major European and Asian economies that are particularly relevant to its clients.
Recently reported by the Financial Times as a mid-market "standout performer," Osborne Clarke offers clients the full spectrum of transactional, advisory and litigation services. The Partner-led team in Sweden will provide a range of these services focusing the key digital, economic, environmental and political drivers that are shaping business internationally. The team will also leverage the firm's access to future drivers of change through its offices in Silicon Alley and Silicon Valley.
The team will launch with Fredrik von Baumgarten and Henrik Bergström, who will be joined by additional partners and their teams at a later date.
Fredrik is a transactional services specialist with expertise across mergers and acquisitions, private equity sponsored transactions and general transaction advisory services.  His clients include Nordic and international private equity investors and investment banks. Prior to founding Baumgarten Byström Rooth & Partners, Fredrik von Baumgarten was a partner at Hannes Snellman and at Vinge in Stockholm, and served as Managing Partner at both firms.
Henrik has broad experience in media, technology and communications, advising leading national, Nordic and international clients in the sector. Previously heading the commercial group and co-head of the tech and communications group at Bird and Bird in Sweden, he has significant experience of commercial and transactional work, assisting and representing clients within the core sectors of Osborne Clarke.
Simon Beswick, International CEO at Osborne Clarke, commented: "Not only is Sweden the third most active M&A market in Europe and growing faster than most other European economies, it's a key market for many of our core sector clients. Having a presence in Stockholm will strategically position our business so we can support our clients on the ground and in a market that presents exciting opportunities for them."
Fredrik von Baumgarten commented: "There is an exciting market opportunity for Osborne Clarke to offer a fresh, new, innovative brand with quality lawyers and a sector specific service. I have a history of building successful teams and look forward to be part of Osborne Clarke and working closely with Henrik and our other partners in bringing these skills to bear with the rest of the new Swedish team."
Henrik Bergström commented: "Given some of the most exciting technology driven businesses are coming out of this region, there is a big opportunity here for us. Both Fredrik and I look forward to working closely with the wider international Osborne Clarke team as well as building and growing the Swedish offering."
In addition to opening in Sweden during 2017, Osborne Clarke expanded in Asia by entering Mainland China and admitting new Shanghai-based firm, Zhang Yu & Partners to its international network. The firm now has four offices across Asia, which also includes an association with OC Queen Street in Singapore, an association with Koh Vass & Co in Hong Kong and the firm's close working relationship with BTG Legal in India.
Pictured from left to right: Henrik Bergström (Partner), Angelica Lundqvist (Senior Associate), Fredrik Von Baumgarten (Partner), Isabella Palmgren (Associate, joining in early October), Gabriel Liska (Associate, joining in early October).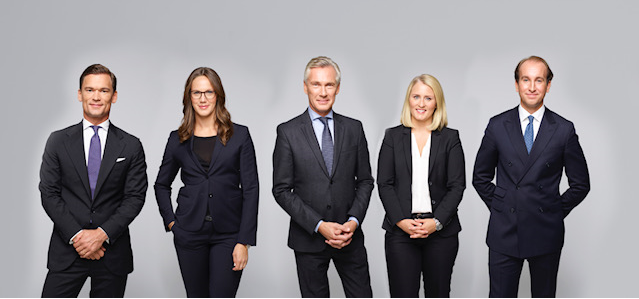 Corporate communications and press contacts
---
Connect with one of our experts