Tobias advises leading companies and start-ups in the Tech, Media and Comms and Financial Services sectors on all matters pertaining to data protection laws and privacy compliance; e.g. structuring of international data transfers, drafting of binding corporate rules and codes of conduct as well as setup of data analysis projects.
Another focus of his work is the drafting of IT and technology related contracts; in particular, with regard to terms and conditions for internet services and data-driven undertakings. He further supports companies with entering the German market, e.g. with aligning their data processing activities with German and European data protection laws. Tobias has authored and collaborated on several publications on data protection in leading law journals as well as legal handbooks and commentaries.
Tobias has been working at Osborne Clarke since he started as a lawyer in 2016.
Tobias studied law at the University of Goettingen. During his time as a legal trainee ("Referendar") he worked inter alia at the data protection officer in Hamburg and at Osborne Clarke's London office.
Osborne Clarke was awarded JUVE law firm of the year for use of IT & Data Protection and Technology & Media in 2019.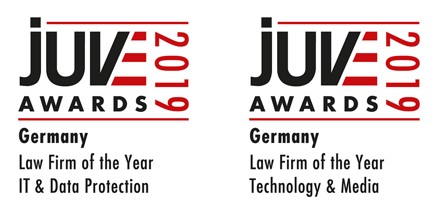 Work
Law Firm of the Year 2019 for IT & Data Protection and Technology & Media
The journal JUVE has twice named the international legal practice Osborne Clarke as the Law Firm of the Year for 2019, read more