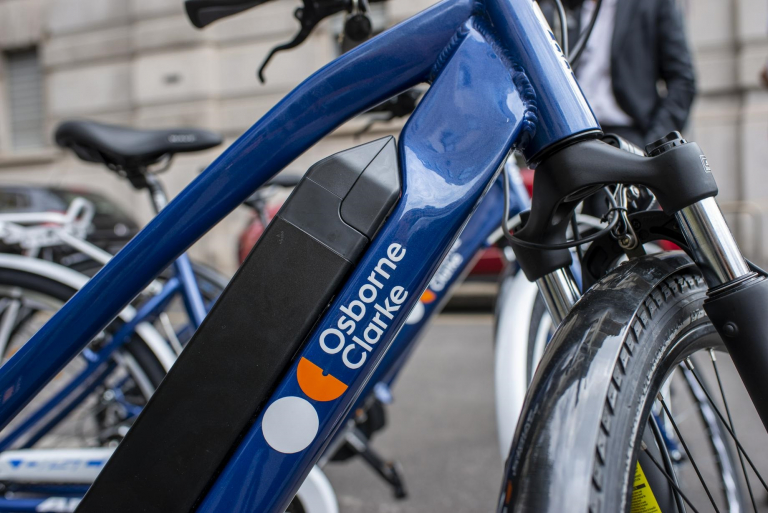 Osborne Clarke continues in its sustainability initiatives with the active promotion of green mobility for all its members. This morning, 30 September, a fleet of corporate bicycles and e-bike, produced by the historic brand Atala, were launched. At the present time there are 14 bicycles, 4 of which are e-bikes, and to encourage their use the Milan office has also installed charging points for both electric bicycles and cars.
In attendance, in addition to Omar Al-Nuaimi, International CEO of Osborne Clarke and Riccardo Roversi, Managing Partner of Osborne Clarke in Italy, were Marco Granelli, Councillor for Mobility and Public Works of the Municipality of Milan and Piero Nigrelli, Director of the Cycle Sector of Confindustria ANCMA, the Italian Cycle and Motorcycle Manufacturers' Association.
Marco Granelli: "I am extremely happy to launch this great example of corporate bike sharing and am thrilled to have been invited here today. We have started on a virtuous path towards sustainability with cycle paths, incentives, sharing mobility, 'strade 30', development of public transport and are happy that this message is hitting home to the benefit of the entire city. I'm also convinced, and initiatives such as this are proof of this, that it is possible to respect the environment without penalising speed and practicality of movement in any way!".
Piero Nigrelli and Massimo Panzeri, CEO Atala: "Sales figures in Italy for 2020, which have grown by 44% for pedal-assisted bikes and which hold a 51% market share for e-city, are the highest in Europe in that segment, prove that the time has come to speed up the use of this type of vehicle in our city in the same way as happened, in the past, in Holland and Germany and as is gradually happening in other European countries".
Riccardo Roversi, Managing Partner, Osborne Clarke Italy: "We are convinced that dedicating our attention to the environment can no longer be postponed but, on the contrary, needs to become a part of our daily lives, both private and professional. Our contribution to sustainability is made up of small steps that represent an ongoing commitment towards the achievement of concrete objectives also in the medium and long term".
This project adds to the firm's previous decision to use only taxis and document couriers that guarantee the use of electric or hybrid vehicles or the use of bicycles, and forms part of a wider vision of sustainable living which already includes numerous activities, from the abolition of single-use plastics in the firm to the distribution of water through with dispensers fed directly from the main water supply.
Corporate communications and press contacts
---