Financial Services
Impact investing - Investing for a positive impact
Published on 29th Jan 2020
On 22 January we hosted a thought-provoking debate on "Investing for a positive impact". Keynote speaker Maggie Loo (Bridges Fund Management Limited) and our expert panellists Ed Rowberry (Bristol & Bath Regional Capital), Oliver Pollard (Resonance), Faith Ward (Brunel Pension Partnership) and Merle Hall (Kinneir Dufort) shared their thoughts on this hot topic.
Background
The "ABC" of Impact
Bridges' investment philosophy is oriented towards addressing the UN Sustainable Development Goals, a universally adopted framework specifically designed to assess socioeconomic impact. To measure and assess the impact of its investments, Bridges applies the "ABC of Impact".
The impact economy is a spectrum. In the same way that risk is managed through a portfolio approach, all areas of the impact economy can be reached by packaging investments with a varying degree of impact into one fund. The entirety of the ABC spectrum should be utilised when considering a portfolio approach to impact.
Impact Management and Data. "Measuring" impact against set targets ensures capital is deployed into credible schemes. Without this information, investors will struggle to differentiate the impact economy from carefully crafted ESG policies.
Impact and profit are not mutually exclusive. Bridges' impressive track record of delivering strong returns through investments in the impact economy proves that the two can go hand-in-hand.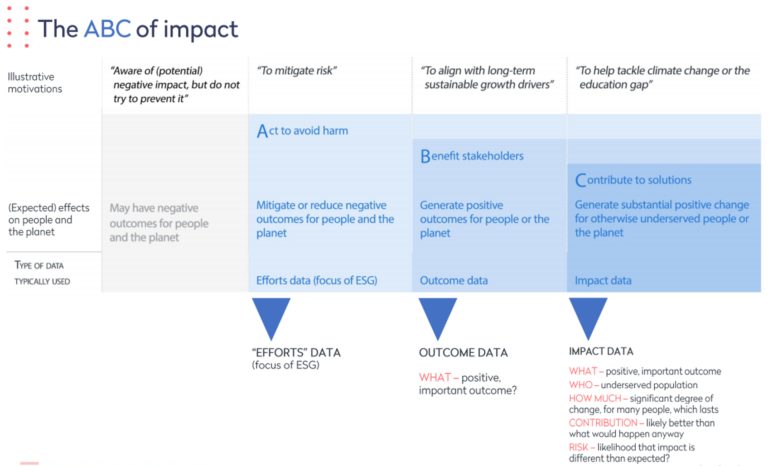 Source: The Impact Management Project
How we can support you on responsible investment
Being a responsible business is important to us, not only as regards the culture of our firm but also in the work we do. We advise clients on funds and businesses which have a core impact strategy and also on wider ESG issues. If you have a query on responsible investment please get in touch with us.
Read our latest quarterly Responsible Business Update here>