Energy and Utilities
The Energy Transition | National Grid's new frequency response service, UK targets 40GW offshore wind by 2030 and Ofgem announces new electricity storage definition.
Published on 9th Oct 2020
This week we look at the Prime Minister's promise to "Build Back Greener", the contribution of CfD projects in 2019/20, Ofgem defining electricity storage as a sub-set of generation, and more.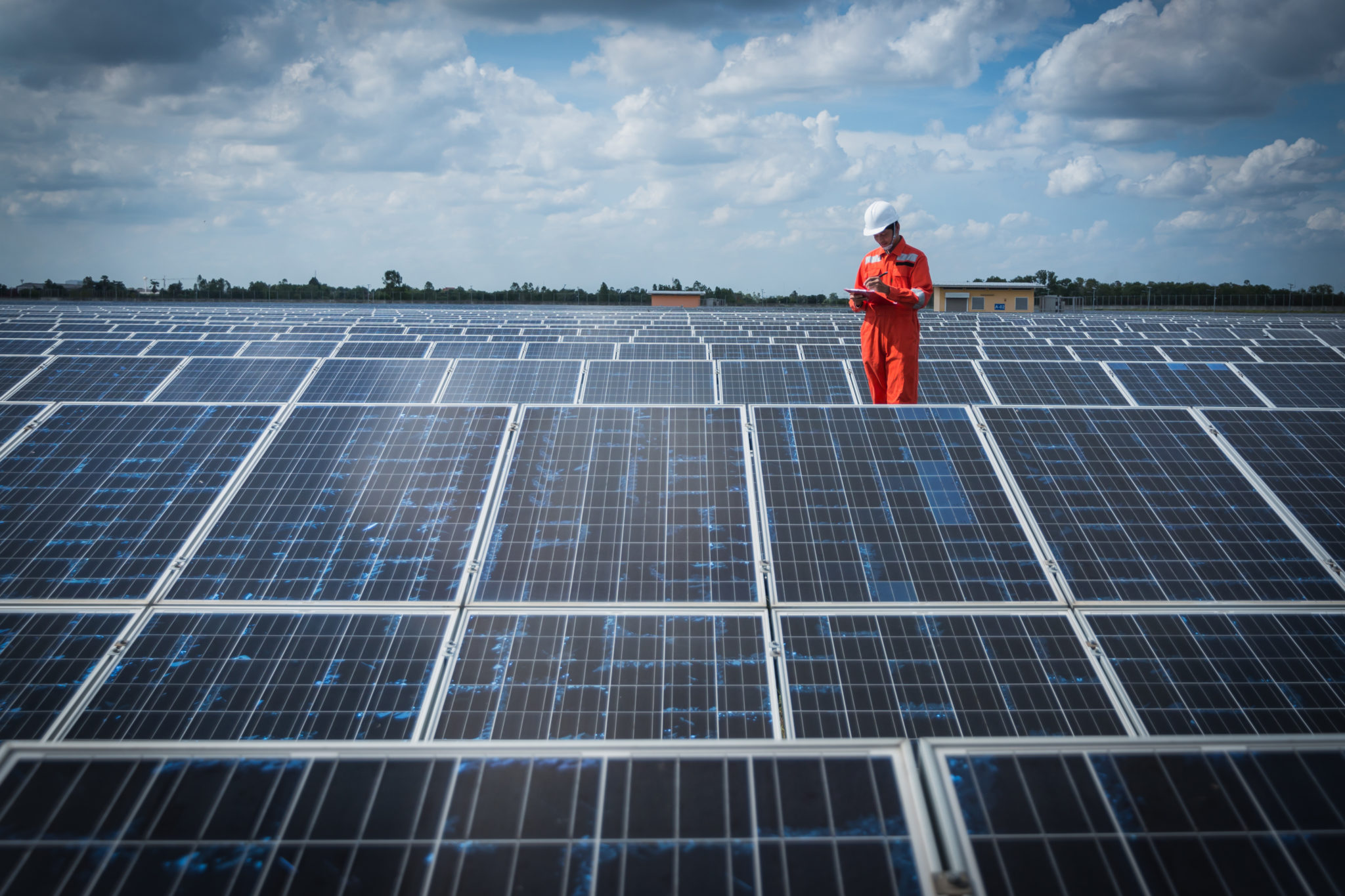 National Grid ESO launches new frequency response service
National Grid Electricity System Operator (NG ESO) has launched a new Dynamic Containment service, designed to enable it to provide a sub-second response to faults which have caused a significant frequency deviation in the electricity system. This is the first in a suite of three new frequency response products being launched by NG ESO.
NG ESO is to run daily tenders for the service, which is then provided from 11pm to 11pm. On 1 October, battery software company Arenko and power demand response company Flexitricity became the first successful bidders to operate the service for the following 24 hours. Shortly after the launch of the new service, a French interconnector fault caused the electricity system frequency to drop to 49.597Hz. Within 120 seconds of the drop, Arenko stepped in and recovered the system frequency to a normal level.
The impact of COVID-19 on consumer patterns and the greater use of low carbon and renewable energy have meant drops in frequency on the system have become more regular. Greater intervention on a more frequent basis is needed from NG ESO to maintain a normal level of frequency. Though NG ESO is currently only tendering for low frequency Dynamic Containment (up to 500MW), there are plans to increase this to 1GW in 2021 to deal with the greater imbalances that are predicted in the near future.
The full suite of new services offered by NG ESO will be completed with the addition of two further products: Dynamic Moderation, which will be used to manage sudden imbalances in intermittent generation but with a slower response time;and Dynamic Regulation, which will be used to manage smaller deviations in frequency when it is close to 50Hz.
£2bn Green Homes Grant and £1bn Public Sector Decarbonisation Scheme open for applications
The Department for Business, Energy and Industrial Strategy (BEIS) has officially launched £3 billion of initiatives aimed at improving the energy efficiency of housing and public sector buildings. The Green Homes Grant and the Public Sector Decarbonisation Scheme are designed to reduce emissions from existing buildings in line with national climate targets, while creating jobs in the retrofit sector.
As we have reported previously, The Green Homes Grant scheme covers two-thirds of the cost of verified energy-saving home improvements (up to a maximum of £5,000) for those who do not live in social housing. This proportion rises to 100% for low-income households, with such households being able to claim a maximum of £10,000.
The Public Sector Decarbonisation Scheme is open to central government departments, local authorities and other public-sector organisations including NHS Foundation Trusts. It will provide grant funding for projects that are proven to improve energy efficiency and decarbonise heat. The amount granted will be assessed on a case-by-case basis by Salix finance.
Boris Johnson vows that UK will host 40GW of offshore wind by 2030
The Prime Minister has announced new plans to "Build Back Greener" and to make the UK the world leader in clean wind energy. These plans include powering every home in the UK with electricity from offshore wind farms within the decade and unveiling a £160 million pot to support the offshore wind sector.
The government has increased its 2030 target for installed offshore wind capacity from 30GW to 40GW - a measure intended to help meet the UK's long-term climate targets and to create "thousands of jobs" in the energy sector. It has also set a target to support up to double the capacity of renewable energy in the next Contracts for Difference (CfD) auction, which will open in late 2021 - providing enough clean, low cost energy to power up to 10 million homes. Following this announcement it has been reported that nearly 12GW of electricity could be delivered in the next CfD round.
These commitments are the first stage of a 10-point plan for a "green industrial revolution" from the government, further details of which have been promised later this year. The government hopes that this plan will ensure that, within the decade, the UK will be at the forefront of the green industrial revolution as it targets net zero emissions by 2050.
CfD projects contributed 18.8TWh of low carbon generation in 2019/20
The Low Carbon Contracts Company (LCCC) and Electricity Settlements Company (ESC) have published their annual reports and accounts for the period 1 April 2019 to 31 March 2020, detailing the performance of the CfD and Capacity Market schemes. The accounts show that 11 CfD projects became operational in 2019/20, increasing the total installed capacity commissioned under the CfD scheme to 4.9GW. During the year, CfD projects contributed a combined 18.8TWh of low carbon electricity, which is enough to power Wales. Additionally, 22 new Allocation Round 3 CfDs were signed, adding 5.8GW of capacity to the future pipeline.
Neil McDermott, LCCC chief executive, said the 2019/20 period had presented LCCC and ESC with "significant challenges", but in overcoming them, he continued, "we have demonstrated our value in supporting the transition towards a reliable and affordable decarbonised electricity system". He later called Boris Johnson's promise to increase offshore wind capacity to 40GW by 2030 "tremendously exciting."
Ofgem announces a new definition for electricity storage
In an open letter published this week, Ofgem announced that it has now decided to implement a definition of electricity storage as a sub-set of generation which will be captured within the electricity generation licence conditions. The long-awaited definition has been introduced in an attempt to remove barriers to the competitive deployment of storage, which include  storage being subject to a disproportionate charging regime. Currently storage assets face double-charging as they both import and export electrical energy.
Electricity storage is now defined as a "conversion of electrical energy into a form of energy, which can be stored, the storing of that energy, and the subsequent reconversion of that energy back into electrical energy." Generation Licences will also now require operators to provide suppliers with information on any electricity storage facilities on site.
The new definition, which was first promised over three years ago as part of the BEIS Smart Systems and Flexibility Plan, is due to take effect from 29 November 2020. However, Frank Gordon, Head of Policy at the Renewable Energy Association, has warned that this definition should only be treated as a "stopgap measure" until a thorough parliamentary review is conducted and legislation is introduced to define storage as its own asset
Connected Energy receives investment to increase battery data analytics
Second life battery storage firm Connected Energy is to increase its analytic capabilities after receiving a £350,000 investment from the Low Carbon Innovation Fund 2.
Connected Energy specialises in reusing electric vehicle batteries to build grid-scale energy storage systems. The funding will be used to analyse performance data in greater detail to allow the company to improve system efficiency and increase battery life.
The Low Carbon Innovation Fund 2 is managed by merchant bank Turquoise and has received £10.9m from the European Regional Development Fund to be co-invested alongside private monies. It's purpose is to invest in small to medium sized businesses based in England which will reduce greenhouse gas emissions. The investment in Connected Energy marks the third deal for the fund since it started investing in June.
House of Commons BEIS committee launches inquiry into government Buildings and Heat Strategy
The House of Commons BEIS committee has announced that it is holding an inquiry into the government's Heat and Buildings Strategy which is due to be published next month.
As part of the inquiry, the committee will:
examine the distribution of environmental levies across electricity, gas and fuel bills and whether they should be reviewed;
look at overcoming barriers to scaling up low-carbon heating technologies, and how the costs of decarbonising heat can be distributed fairly across consumers, taxpayers, business and government;
examine which technologies are most viable for delivering decarbonised heating; and
seek views on the preferred priorities and timescales for the government's heat policy.
BEIS committee chair Darren Jones said that the committee wanted to use the inquiry to scrutinise government plans once the Heat and Buildings Strategy has been published, and to "ensure we have a long-term policy for heat that gets to grips with the challenges ahead of us".
The transition to low carbon heating has been a long-standing issue in the journey to net zero, and one that the Heat and Buildings Strategy is seen as crucial in solving. Less than 5% of the heat used across the UK's 29 million homes is from low-carbon sources. In 2018, 27,000 heat pumps were installed across the UK, compared to 1.7 million gas boilers.. This is despite the availability of incentives such as the Renewable Heat Incentive.
Enel X calls for independent aggregator flexibility trading in wholesale energy markets
Enel X has submitted a modification to the Balancing and Settlement Code that would allow independent aggregators to trade customers' flexibility in wholesale energy markets as a "Virtual Lead Party" (VLP).
Code modification P415 intends to address the current problem that electricity consumers using flexibility services cannot currently obtain any value from that flexibility in the wholesale energy market, except through their supplier. The solution proposed is for a VLP (the aggregator) to be allowed to trade customers' flexibility in the wholesale energy market directly on their behalf, as they already can for balancing services, the balancing mechanism and the capacity market.
In its proposal, Enel X argues that the current disparity between the wholesale market and balancing mechanism is an "anomaly" that needs to be fixed. In order to facilitate this change dispatched flexibility volumes (being those over and above normal consumption) would have to be separated from normal supply volumes, with different parties responsible for each. VLPs would therefore only be able to trade those flexibility volumes that they can action.
Code manager Elexon presented its initial written assessment of P415 to the Balancing and Settlement Code panel on 8 October.